October 16, 2018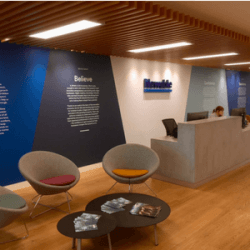 Now in their 18th and final year before the Institute changes its name, the BIFM Awards set out to 'celebrate the profession's finest, honouring those whose outstanding work has driven innovation and achieved exceptional results in the organisations where they work, benchmarking excellence and inspiring others'. Thirteen winners were announced from 46 finalists at a ceremony held last night in London. The occasion also celebrated the work of a further nine finalists whose initiatives were highly commended by the judges.
BIFM Awards chair of judges Steve Gladwin said: "Our Awards reflect the truly diverse nature of our profession, and they represent its gold standard. In them we celebrate not only the contribution of FM to society, but also the technological and environmental innovations and impacts that are driving us all forward. Being a finalist in the BIFM Awards is a great achievement, and a great encouragement to others within the profession."
The winners were:
People
Newcomer of the Year
Winner: Paul McNally, VINCI Facilities
Highly Commended: Shiloh Johal, Bellrock
Manager of the Year
Winner: Laura Birnbaum, HM Courts and Tribunals Service Facilities
Highly Commended: Marie Turner, LiveWest
Team of the Year
Winner: Kier Workplace Services and Cardiff Council
Highly Commended: London Stadium, VINCI Facilities
Leader of the Year
Lifetime Achievement
Innovation
Innovation in Technology and Systems
Winner: Digital FM – The New Era, Emaar Facilities Management LLC
Highly Commended: BAM Facilities Management – Horus, Sentinel
Innovation in Products and Services
Winner: Innovation Gateway
Highly Commended: Anyjunk
Innovation in Professional Development, Large Organisations
Winner: Premier Technical Services Group PLC
Highly Commended: GWS Connect – a new way of onboarding, CBRE Global Workplace Solutions
Impact
Impact on Customer Experience
Winner: Hinchingbrooke Treatment Centre, Kier Workplace Services, Prospect Healthcare (Hinchingbrooke) Ltd and North West Anglia NHS Foundation Trust
Impact on Organisational Performance
Winner: Newable – A Brave New Workspace, WhereWeWork Ltd
Highly Commended: Lift Your Wellbeing (LYW) Programme, Skanska
Impact on the Environment
Winner: Carbon Management Programme, University of Oxford
Highly Commended: International Commerce Centre, Kai Shing Management Services Limited
Impact on Employee Experience
Winner: intu Properties
Highly Commended: The impact of Wellbeing on Performance at the Frontline of Facilities Management, Manchester Metropolitan University Facilities Management Team
Impact on Society
Winner: Abilities in Facilities, Sewell Facilities Management in partnership with Mencap
Learn more at www.bifmawards.org.