March 18, 2022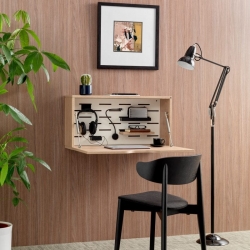 As we adapt to a new way of working, whether it be working from home (WFH) full-time, or hybrid working, now is the time to reassess our home office setup to ensure it works for us – day in, day out. Building on the success of its Belong collection designed specifically for home working, the Bisley Hideaway is designed to suit homes where space is at a premium. The firm has also introduced a new Swing Desk to its Hideaway range, to help you create a multipurpose yet well-organised workspace.
Over the last two years, WFH has become a part of everyday life while our homes have also stepped up to be increasingly multifunctional. According to a recent survey conducted by the Office for National Statistics, over one-third (36 percent) of UK working adults reported having worked from home at least once in the second half of January 2022. Meanwhile, Bisley continues to experience strong demand for home office furniture, having seen an increase of over 125 percent in sales in the last 12 months on its e-commerce store.
Responding to such demand, Bisley launched its Belong collection in 2020, which comprises a curated selection of home office furniture and accessories designed with style, flexibility and durability in mind.
Richard Costin, Bisley's CEO, comments: "As a result of the pandemic, we have entered a new era where our industry has to adapt to a different way of working. I remember asking our design team in early 2020 to think, if they had free rein over new products within our steel and wood factories, what they would be. They came back with a whole range of wonderful ideas, and the result of that is our Belong collection. It's times like this that we have the opportunity to thrive and push the boundaries of innovation. I truly believe that, with their fantastic talents and skills, our team has created something beautiful yet cleverly designed and fit for the new era of flexible working."
Bisley Hideaway
Hideaway, among others, is one of the latest ranges – within the Belong portfolio – designed to suit homes where space is at a premium. A clever and thoughtful solution, the first Hideaway design is a wall-mounted desk (£375) that enables the user to fold it down when working, and fold it up to tuck away their equipment when logging off for the day.
Designed and made in the Bisley UK factory, the Wall Desk is a modern reinterpretation of the traditional bureau, with a carcass that comes in eight laminate finishes and a steel back panel available in a choice of 33 colours. The user can also securely attach Bisley's extensive range of hook-on accessories, including Mosaic, to the perforated back panel to further maximise storage and organisational options.
This Spring, Bisley has introduced a new addition to its Hideaway range. Also designed and manufactured in Bisley's factory, the Swing Desk (£795) enables the user to easily transform their space from a sleek and stylish sideboard into a working, functional desk in one subtle move. Without changing location, it is perfect for the living room or kitchen diner.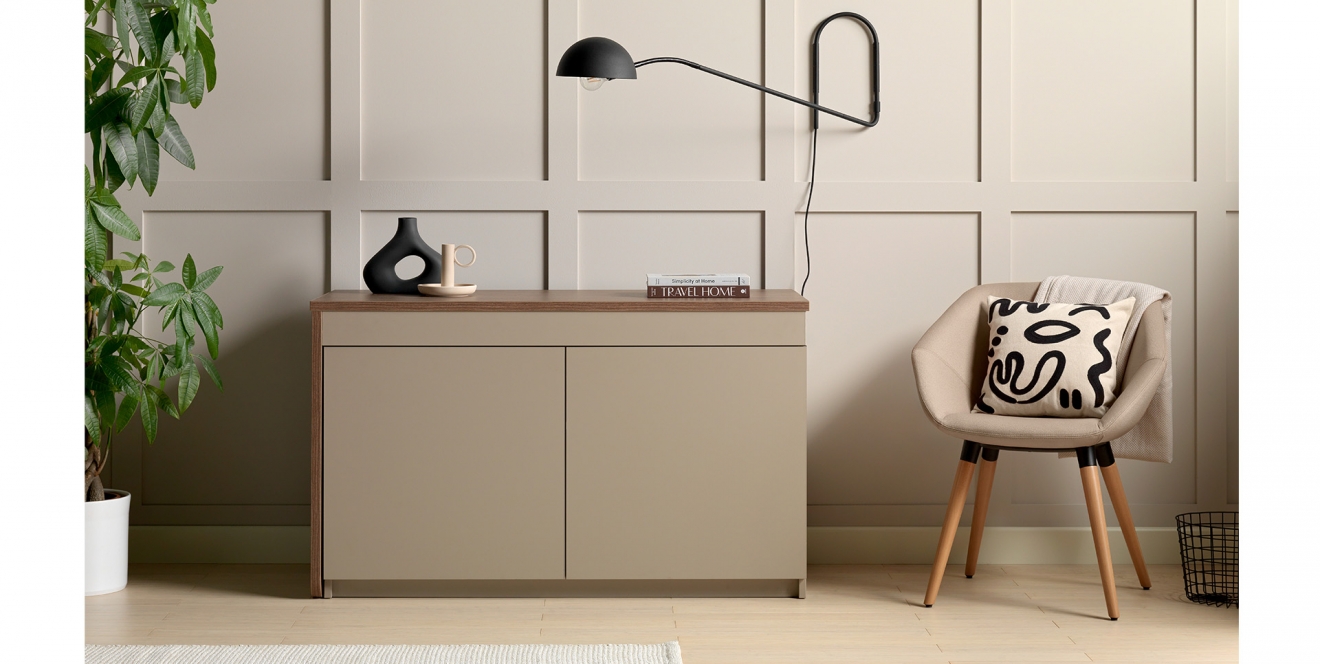 Chris Fowler, Director of Design at Bisley, comments: "We're very proud of this latest addition to our Hideaway range. The Swing Desk is a dual-functional piece of furniture – not only is it a spacious desk with everything to hand for WFH, it's also a quick-to-close-away sideboard with no clutter on show when work is finished. It's a high-quality product that feels premium – with soft to the touch surfaces to elevate the overall user experience. The entire desk is also made in our factory, which helps keep the manufacturing carbon footprint to a minimum."
With a premium finish suitable for multiple settings, the Swing Desk moves out at 90 degrees to form a desk so the user can work, rest and store throughout the day. After that, the desk transforms back into a sideboard with no door handles, locks or hinges visible, offering a neat and minimalistic look.
The desk also features a matt, velvety surface – thanks to its "PerfectSense" material available in five colour options – providing anti-fingerprint properties as well as excellent resistance to abrasion, impact and micro-scratches. With a contrasting, wooden laminate desktop, finished in either oak, maple, walnut or shorewood, the Hideaway Swing Desk sits elegantly with other coordinating Bisley ranges.
What's more, the Swing Desk comes with a push-to-open, fabric-lined drawer for storing away small personal items. With a built-in USB port, pin plug power and cable management, the individual can also charge their electronic devices while working. The desk is available as a left-hand or right-hand design, with no self-assembly required.
For more information about Belong or Hideaway, visit bisley.com/shop.