March 18, 2022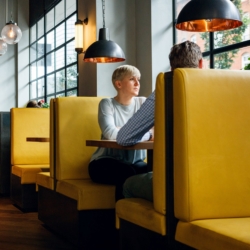 Flex office provider The Instant Group has merged Davinci Virtual Office Solutions into its online marketplace for flexible workplace. Last week, Instant announced the creation of what it claims is the world's largest independent marketplace for flexible workspace through the merger with key digital assets from IWG plc including: EasyOffices.com, Meetingo.com, Rovva and Worka.
The Instant Group believes that Davinci will enhance the offerings of the firm's new workspace platform by adding virtual office solutions, meeting and day office booking options, as well as live receptionist services.
Tim Rodber, CEO at The Instant Group, said: "There has been record demand for virtual offices over the past year, and our new platform will be greatly enhanced by joining with the market leader in this area. Davinci has been a pioneer in this critical part of the flexible workspace sector for more than 15 years and is key in enabling our 'work from anywhere' platform for customers."
Davinci Virtual Office Solutions was founded in 2006 and is headquartered in Salt Lake City, Utah. The company provides virtual office solutions and live receptionist services to over 50,000 companies and entrepreneurs throughout the U.S., Canada, Europe, Central America, Africa, Asia, and Australia. Clients can obtain prime business addresses, meeting and workspaces and live receptionist services – instantly – with the click of a button.
Martin Senn, Chairman for Davinci added: "We have seen demand increase significantly over the past year as virtual office solutions continue to enable a hybrid working economy. Davinci's customers are now asking for a suite of flexible office options to have more choice and enhanced business agility.
"Joining with the Instant Group will allow us to scale our platform while introducing our clients to greater market choice across the flex workspace sector. With this merger, Davinci's client base is going to gain access to the largest global inventory of workspace solutions."
The Instant Group's newly enhanced marketplace will serve more than 250,000 businesses in 127 countries, operating 24/7 through an integrated platform in more than 40 languages. It will consolidate more than 25,000 workspaces and will offer a range of services to clients including membership plans; on demand; virtual offices; office booking; managed offices; and consulting services.