May 19, 2022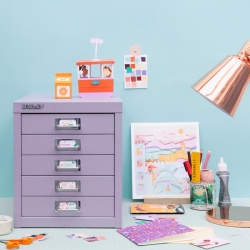 Spring has finally sprung, and now is the time to give your surroundings – whether it be at home or in the office – the well-earned refresh it deserves. Adding colour is a simple yet effective way to revitalise and inject freshness into a space. Expanding its colour palette, British office specialist Bisley has introduced two new hues, Bisley Lilac and Bisley Coral, to a whole host of furniture and desktop accessories from its Belong collection – as well as selected products for the contract market.
Launched in early 2020 in response to the working-from-home phenomenon, Belong offers end-consumers stylish yet hardworking, savvy solutions with flexibility and versatility in mind. The collection comprises multiple ranges of furniture and desktop essentials designed not just for the home office, but also for other areas in the home – from the lounge to the bedroom and kitchen diner.
Made in Bisley's factory in Newport, South Wales, featured ranges within the Belong collection include MultiRange, Bridge, Outline and Mosaic, among others. They are currently available in a choice of colours and finishes, as well as a breadth of configuration options to fit any space.
Selected by Bisley's Creative Director, Jeanine Goddard, Bisley Lilac and Bisley Coral bring newness and a sense of optimism to the Belong series and other contract ranges from Bisley – including Glide, BS Filer and CLK Locker.
Goddard explains: "The new way of living and working in the last two years has led to a significant change in perceptions of how colour can be used in spaces, with a more strategic emphasis. For me it's all about the palette – and working in a considered way with hues that may not in themselves be supersaturated but can be brought together in different ways to make statements, whether nuanced or bold."
Inspired by our renavigation between digital and analogue worlds – in which our lives slowly switch back from screens to real life, Bisley Lilac is one from the digital realm that is also found in nature.
"This surreal and otherworldly shade gives us comfort in knowing that it occupies a similar space to us as we move between the two," says Goddard. Its rich, deep shade evokes tranquillity and productivity while adding a soothing mood to any room. It also brings clarity, clearing the way for creativity.
On the other hand, Bisley Coral is an uplifting yet comforting colour that feels cosy and familiar. It symbolises warmth and positivity as we come out of the pandemic looking for certainty and reassurance once again.
"At Bisley, we regularly use our Palest Pink and juxtapose it with complementary shades of ethereal lilac and the earthy tones of coral – in some ways all neutrals with grey hues," adds Goddard. "The overall effect is tranquil and light, but the level of seriousness or playfulness can easily be dialled up or down to suit different settings and personalities."
Bisley Lilac and Bisley Coral are now available to furniture and desktop accessories from the Belong collection and selected contract ranges from Bisley.
For more information, visit bisley.com and bisley.com/shop. Image: Laura Sayers