May 19, 2022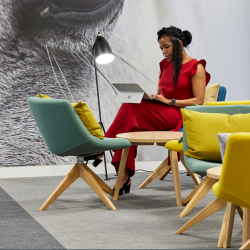 A significant majority of businesses, (68 percent) expect to be promoting a more regular return to the office by the middle of this year, according to the latest EMEA Occupier Sentiment Survey from real estate advisor CBRE. Nearly a quarter of those surveyed (23 percent) said the process is already underway, with 45 percent focussing on the remainder of H1 as the return period. However, nearly three quarters are doing so as part of a shift to hybrid working.
The survey also claims that there are some notable sector differences, with nearly 80 percent of financial companies aiming for a more regular return by mid-year.  By contrast, over a third of technology companies are allowing the process to take its own course without specifying a timeframe.
Whilst timelines are in place for returning, organisations are clearly favouring choice over mandate.  Only 6 percent of companies surveyed are requiring employees to return to the office on a full-time basis, with 70 percent permitting either a voluntary return to the office at the employees' discretion, or requiring return on a part-time basis.
A majority (72 percent) of companies say that they are moving towards a hybrid working model in which employees have a measure of choice within the framework of company guidance.  Not only is this appreciably higher than last year (55 percent), but most say that there is strong C-suite endorsement of this position and nearly two-thirds (65 percent) say that sentiment has actually strengthened in this direction during the pandemic.
Regardless of location, a growing number of companies also expect their portfolios to expand.  A year ago, a third of companies were expecting to expand physically over the next three years.  This has now risen to over 40 percent overall, with the figure rising to 60 percent in the technology sector.
Market changes have also led to increased popularity for the flex office market. The proportion of companies for whom flex space represents less than 10 percent of their portfolio has halved from 86 percent now to an expected 41 percent in two years' time.
Nearly 90 percent of those questioned, indicated that that they would be making changes to their real estate strategy as a result of the pandemic. Linked to this, the survey also indicated the increasing importance of workplace strategy compared with the same period a year ago. Companies are increasingly looking to increase collaborative areas – up from 36 percent to 63 percent and are revisiting design standards (up from 22 percent to 50 percent).  Enhancing or increasing workplace amenities (up from 9 percent to 36 percent) and altering layouts to provide more open space have also increased in popularity. The survey also indicated a heightened desire for an increased emphasis on health and wellness, with 41 percent of business citing this as being important.
Image: AECOM award winning design for HMRC