June 22, 2023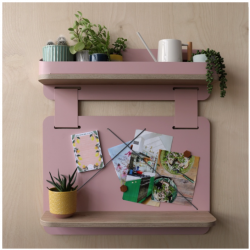 Bisley has launched a new collection for the home this summer. Shelving and storage units are updated with a palette of 14 colour options to suit summer interiors, from zingy brights to calming pastels. In addition, three brand new wall-hung accessories are added to the range, bringing a sense of style and fun to home organisation this season. Now available to buy from the online Bisley shop, the Outline collection of storage is designed with flexibility and modern home display in mind. The steel frame is robust yet elegant and combines opportunities for display and storage whilst allowing natural light to flow through. Outline products are ideal for flexible zoning at home, to create a home office without the need for walls and establish distinctive areas in which to work and relax.
The classic two-drawer Home filer is updated with warm, wooden handles that are well suited to a hybrid working environment. Pictured above in the summery Lilac shade, the Home Filer offers an iconic Bisley look in a compact, understated unit, which works perfectly for small spaces. Crafted from sustainable hand-welded steel for a seamless finish, three new wall-hung home accessory pieces, Gallery, Place and Reef, bring a sense of style and fun to home organisation, with a welcome pop of summertime colour for walls.
Gallery is a collection of customisable wall-mounted accessories engineered to help you make the most of vertical space. The mosaic panel is used with a selection of hanging accessories – colourful panels, pots and shelves – in order to customise the wall unit to store exactly what you need. A magazine rack, whiteboard and planter shelf are also part of the range.
Extension hooks are added to create a multifunctional display, linking white boards to mood boards and shelves to planters. While ideally suited for stationery and desk items in the home office, the vibrant, contemporary palette of Gallery can work anywhere in the home – useful for organising recipes and cook books in the kitchen, or for keys and reminders in the hallway.
The Place range offers five designs to mix and match, and is available in a single, double or triple formation. Books, plants, photo frames and pen pots can be displayed on these shelves with a playful, modern aesthetic. Place is also available with the addition of a pinboard for added organisation possibilities.
The soft curves and bevelled frame of this design give a minimalist silhouette that can be styled to adapt to any room in the home. Slimline folded shelves conceal fastenings to give the impression of floating on the wall, and hidden supports provide extra strength. The clean, uncomplicated look of Place is available in the full range of Bisley colours, to compliment all interior schemes, from neutral to bright.
Bisley's floating Reef shelves have curved edges and convenient undershelf hooks, perfect for grouping small items together. The Reef shelf is crafted from sustainable folded steel, and available in the full Bisley colour palette. Reef shelves are available in two sizes – 470mm width and 700mm width – that work equally well whether installed as a pair or a standalone storage piece.
Practical and hardwearing, the shelves have a sleek aesthetic that is at home in an office, hallway or kitchen and makes a functional feature of empty wall space.