November 6, 2013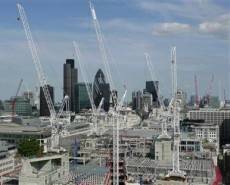 Office construction in the City of London is higher than it has been for five years, according to a report from Deloitte Real Estate. The London Office Crane Survey found that there are over 5 million sq.ft. of office developments at 23 schemes in the Square Mile including major landmark and well known buildings such as the Walkie Talkie and the Cheesegrater. Elsewhere in London, development is at a 4 year high in the central area which covers the West End, King's Cross, Midtown, South Bank, Docklands and Paddington, with 71 schemes set to create some 9.7 million sq. ft. of new commercial property.  The report claims that in 2014 alone, some 6.6 million sq ft of office developments will be complete in central London.

The report also claims that the demand is there to fill all of these new buildings and more. The authors of the report claim that 'there are strong indications that tenants will commit to this space during construction and so the amount being delivered into the market and available to lease will continue to reduce.'
The report suggests that as many as a third of the upcoming  office developments are already leased prior to completion and doesn't see a let-up in this high level of demand in the near future. In fact, the Deloitte report predicts that demand for Grade A space will continue to put pressure on supply to such an extent that there will be a shortage of available property within the next two years, pushing rents even higher in the most attractive areas of London.
Meanwhile a report in Property Week has suggested that London's most high profile development, the new Google headquarters at king's Cross, has been put back a year as the company would like to rethink the original design as it believes it can do more with the site.  According to Property Week, the development will now complete in 2017 rather than 2016.