April 29, 2015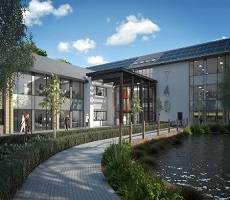 An office at Bristol's Aztec West Business Park has become the first building to be certificated under the new BREEAM UK Refurbishment and Fit-Out standard. Legal & General Property's building at 740 Waterside Drive has been awarded design stage 'Very Good' ratings against Parts 2 and 3 of the scheme for the refurbishment and fit-out of its core and local services. The £5 million, 51,000 square feet project took 30 weeks to complete and includes an extensive range of refurbishments and improvements. These include fully replacing the mechanical and electrical systems, installing photovoltaic panels on the roof, enhancing the airtightness of the building and improving its EPC rating to achieve an EPC A. BREEAM UK Refurbishment & Fit-Out 2014 has been developed to assess a wide range of project types.
The project also involves the replacement of window and curtain walling, a Category A fit-out to floor plates, a new steel-frame reception extension, the reconfiguration of the core to include new toilet facilities, floor, ceiling and wall finishes to the new reception extension, and improvements to the site's landscaping.
BREEAM UK Refurbishment & Fit-Out 2014 comprises four modules:
Part 1 – Fabric and structure: external envelope, including walls, roofs, windows and floors
Part 2 – Core services: centralised M&E plant, including heating, cooling and ventilation
Part 3 – Local services:  including lighting, local heating, cooling and ventilation
Part 4 – Interior design: including interior finishes, furniture, fittings and equipment.
Said Gavin Dunn, Director of BREEAM: "The BREEAM success of 740 Waterside Drive is testament to the commitment of Legal & General and the entire project team to addressing the challenges of improving existing buildings."
"Our congratulations to the team who have worked together to deliver a building that will not only be more sustainable, but also offers opportunities for making savings on running costs and a highly attractive workplace."
The 740 Waterside Drive project team comprises:
Client:Legal & General UK Property Fund
Project Manager: JLL
Architect: Stride Treglown
M&E Consultant: Hoare Lea
QS: Sweett Group
Contractor: Midas Construction
BREEAM Assessor: Sustainable Construction Services
Joint Agents: Knight Frank & JLL
For more information on BREEAM UK Refurbishment & Fit-Out 2014 click on the link.