June 5, 2020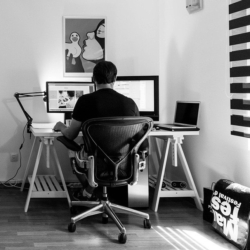 A new survey by CASS Business School, IESE Business School and HR Service Provider SD Worx claims that two thirds (65 percent) of British employees are working remotely during the lockdown. Almost half (47 percent) of the new batch of remote workers had never worked remotely before the COVID-19 crisis. The research focussed on salaried white-collar workers and covered six countries: Belgium, Germany, France, the Netherlands, Spain and the UK.
The survey suggests that the average percentage of home workers in the UK (65 percent) is significantly higher than the European average (57 percent). When we break this down by country the survey identified the following: Belgium (62 percent), Spain (60 percent), France (59 percent), the Netherlands (55 percent) and Germany (40 percent).
The report's authors claim that the differences can be explained in part by different work cultures, the range of industries (more or less industrial or service-oriented, for example), the varying impact of the crisis from country to country, and the divergent preventive measures taken by local governments.
Lockdown mobilises switch to remote working
The UK response and lockdown forced businesses to take a different approach to its European neighbours. Remote working is novel for nearly half of British white-collar workers. Indeed, only 10 percent of the UK knowledge workers occasionally worked from home before the crisis. Before the lockdown, only 8 percent were working from home full-time. The lockdown therefore mobilised many companies and their employees to switch to remote working for the first time.
"The COVID-19 crisis has revolutionised remote working. The transition for many businesses has been smoother than expected, even in the more traditional industries and careers," says Annelore Huyghe, professor at CASS Business School. "It is therefore also plausible that working from home will become more widely established, with increased flexibility and virtualisation becoming the norm."
Productivity
When it comes to working hours, remote working has changed little for the majority. The survey identified that the majority (63 percent) white-collar workers spend as much time working each day as they did before. Approximately 10 percent of the respondents advised they work more than usual, with an average increase of almost one and a half hours per day (one hour and 36 minutes).
One in five respondents (27 percent) advised they work three hours and 12 minutes less than before the lockdown each day. However, the results from the Netherlands suggest that almost a quarter (24 percent) work an average of three hours and eighteen minutes less each day. Conversely, people who still work in the office spend an average of 18 minutes less per day on their jobs.
"It is important to keep in mind that the current, widespread instance of remote working is different to what came before," notes Professor Jeroen Neckebrouck from IESE Business School. "It is not a voluntary choice for a day or two a week, but a sudden and long-term imposition."
Image by tookapic