November 12, 2021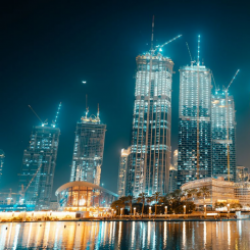 According to new research, the majority (58 percent) of built environment professionals believe the sector is already doing enough to tackle its carbon impact, despite the built environment contributing 36 percent of total global energy-related CO2 emissions, and the most recent available data highlighting that CO2 from operational energy use of buildings reached its highest level yet in 2019.
For its City of Tomorrow report, building performance analyst IES spoke to a wide range of professionals working in the built environment sector about the current status of sustainability methods and targets, including engineers, facilities managers, contractors, developers, planners and architects.
The report claims that only 29 percent of those working in the sector felt that it should be doing more to reduce its carbon impact, and 13 percent were unsure if current efforts would be enough.
The research suggests that this complacency could stem from a lack of awareness around the full extent of the built environment's carbon contributions.
It's been demonstrated that the built environment contributes almost 40 percent of the UK's total carbon footprint, yet when asked to estimate this figure, 80 percent of those surveyed answered incorrectly, with 45 percent underestimating the total percentage. Six percent guessed as low as between 1-10 percent.
"The built environment contributes almost 40 percent of the UK's total carbon footprint"
When asked which aspect of the sector they believe is the place where most sustainability gains can be made, 51 percent of those surveyed said construction. However, only 22 percent said operation/energy use, and just 4 percent said materials development.
Don McLean, CEO of IES, commented: "While it's great that awareness of climate issues in general is now pretty widespread, and 79 percent of organisations in the built environment sector are actively working towards net zero, it's clear that more needs to be done to communicate the built environment's role in carbon emissions to those working in the sector.
"In particular, we really need to raise awareness of the environmental impact of buildings' operational energy use, with the available data showing that emissions from building operations are still a huge problem, that efforts up until now have failed to tackle effectively.
"Reducing the emissions created during the construction process is of course essential, however considering that 80 percent of the buildings that will be around in 2050 are built already, optimising the operational efficiency of those already in existence is just as, if not more important."
Image:IES