December 12, 2022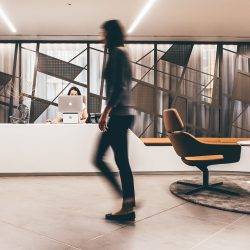 BW: Workplace Experts has added to its expertise in fit out with a new design and build (D&B) service. BW Design and Build extends the company's service portfolio, encompassing a pool of resources that are now able to design and deliver from within. This forms part of the firm's commitment to ongoing and dynamic investment in supporting future client relationships. It is also in line with BW's three layers: Innovation, Diversity and Net Zero, launched last year as part of its Purpose Report.
This new Design and Build offering is a scalable model. While BW's existing core services encompass project management, design management, technical services, health and safety, construction management and specialist AV skills, Design and Build also includes full pre-contract services including creative design, technical design (including BIM capability), aligned programme and budget generation alongside advice and support on integrating sustainable specification and practice as part of the in house, and fully self sufficient team.
BW's approach to designing and building projects is further based on four pillars. This includes a 'discovery' element which covers due diligence/building surveys, environmental studies and key stakeholder engagement, a 'describe' phase where testing, clarification and testing take place. Design phases can then take place which explore and develop the look and feel of projects, including mood boards, material and furniture selection, enhanced visualisation and navigation, plus statutory approvals, technical solutions, digital integration, sustainability and accreditation review, full documentation and scheduling.
BW Design and Build has already completed a number of D&B projects including office space for world-leading private investment and asset management firm Ardian. The objective at the 18,000 sq.ft site was to support the group's rapid growth and acceleration in the London market, and through the vertical expansion across the location at 1 Grafton Street in Mayfair. BW were engaged to deliver both the lower ground and common spaces for the landlord and subsequently appointed to complete the refurbishment of 4 floors of their anchor tenant. The resulting design is classically styled yet contemporary.
In terms of Design and Build, BW's reputation and enthusiasm stands it apart in the marketplace, particularly in terms of its approach to the post pandemic office environment. As well as somewhere to work, it's important to acknowledge that the industry is continuing to experience the greatest shift in office design for some time. Factors such as sustainability processes and behaviours, agility of platform and technology and health and wellbeing are increasingly important.
With the establishment of a Design and Build service, BW consolidates its position as a trusted partner, leading with competency, empathy and reliability.