October 18, 2017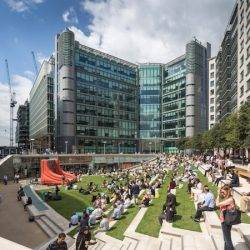 The UK commercial property industry is undergoing a fundamental shift towards a more customer centric approach, with an increasingly greater emphasis being placed on delivering outstanding customer service to occupiers. This is the key finding of a new report from The British Council for Offices (BCO) entitled 'Office Service Standards and Customer Experience: a best practice guide'. While for those who hold a very traditional landlord occupier relationship this change in thinking, attitude and operation may feel revolutionary, the report argues we are already seeing the industry evolve across the board. It claims that this is accelerated by new 'property sector disruptors', who are driving a shift in the relationship between property owners and corporate occupiers. To ensure they are keeping pace with their changing requirements and aspirations, property owners and managers are increasingly realising the need to invest in building strong relationships with their occupiers
The BCO report, authored by Howard Morgan, Dr Danielle Sanderson and Sue Flatto, all of RealService, offers practical guidance to property owners, managers and occupiers in the form of best practice checklists, case studies and scorecards. These are intended to assist all parties in collaborating in striving to satisfy the ever-increasing expectations of today's occupiers. Building on previous research undertaken by the BCO in 2015, this report sets out to give direction on how to deliver and measure the progress of a great customer experience.
According to the report, the case for providing great customer experience has historically focused on supporting the 3R's – revenue, retention and reputation. However, this report provides evidence of the growing importance of 'soft' skills, such as empathy, understanding and trustworthiness towards occupiers, who view these as being just as important as the 'hard' financials in driving customer loyalty. As an example, when recruiting customer facing staff, the most important attribute Broadgate Estates' Head of Service Delivery looks for is empathy, to ensure his staff are able to stand in the customer's shoes and understand what they want and need.
A greater focus on customer experience reflects the changing shape of how people work, and the demands they place on their office environment and commercial property. As customer requirements shift from 'space as a commodity' to 'space as a service', established operators are showcasing new ways of operating. British Land has launched its Storey flexible office space product, while Landsec has reflected its customer centric approach in a refreshed brand and vision focused on delivering to how 'Everything is experience'. These leading property companies are demonstrating their commitment to driving cultural and behavioural change to ensure better engagement with their occupiers for an improved customer experience.
To ensure owners and property managers are delivering the type of customer experience that will match the best that can be found outside of the property industry, the report identifies that a much wider set of skills is required, along with a new mindset to deliver better customer experience at all stages in the relationship lifecycle. These new skills, and the greater emphasis on delivery of enhanced customer experience, will lead to an increased profile of the property management profession.
Commenting on the report, Chris Richmond, Chair of the BCO's Occupier Group, said: "There is a clear commercial imperative to deliver improved customer experience in the property sector. With the uncertainty of Brexit affecting property values, and an intensifying focus on income returns and retention in the light of weaker occupier markets, there has never been a more apt time for our industry to get closer to its customers. This guide focuses on providing practical advice for property owners, managers and occupiers to realign their thinking from 'what's wrong' to 'how can we make things better' for the greater good of the building and the community who occupy it."
Chief Executive of the British Council for Offices Richard Kauntze, added: "For any business to be successful, continued evolution is necessary to remain relevant and responsive to change. New entrants in the office market have prompted an acceleration of this evolution in the sector. The BCO's research endeavours to encourage and support property owners and managers in providing their customers with the very best experience. It is significant that within the BCO our NextGen members have been strong supporters of this project. I hope that these rising stars will help lead the charge on this within their own businesses, as well as providing the inspiration to others to create and successfully execute new delivery models."
The checklists, designed to help property owners, managers and occupiers understand what best practice looks like, follow the broad structure of the RealService 'Best Practice Framework' and cover the following areas: customer experience culture, customer insight and service design, collaboration with service partners, leadership & training, operational excellence, and, performance measurement.
Main Image: Paddington Central from British Land