May 24, 2023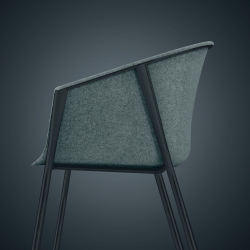 Sustainable office design pioneer Casala has added to its portfolio of ground-breaking products with the launch of the Omega range of seating. Omega is a stylish and comfortable seating range, unmistakeable thanks to its slender shell made from recycled PET felt, combined with a lightweight steel frame. The diversity of the product family makes Omega a multifunctional all-rounder for the office, receptions, hospitality and break out spaces.
Omega's shell is made from recycled PET felt, available in six colours. The wide range of finishes means Omega is the perfect solution for a wide range of settings. Its classically chic good looks make it ideal for any location. For extra comfort, the Omega shell can be specified with an upholstered seat.
Omega offers a range of possibilities in both form and function. Chairs with or without armrests and stools in bar and counter height ensure that this family is a seating solution for any space. Each model is available with a steel rod or four-legged frame. This guarantees a uniform appearance in different areas.
Create a vibrant and contemporary look with Omega barstools at a high table. This informal setting is ideal for a short meeting, a break, brainstorming or a scrum session. The Omega barstool can also be used flexibly at a counter or in a phone booth.
Casala specialises in the production of stylish contract furniture that excels in both design and functionality. "Design linked to Functionality" is deeply rooted within the firm's DNA and plays a major role in the design process. The firm works together with leading designers in our industry. More than hundred years of experience in furniture guarantees that Casala furniture offers a lot of comfort and ease of use in addition to high quality.
Flexible workspaces, modern open office environments and informal meeting spaces are increasingly part of the modern office. Casala's collection responds to this need. The extensive and high-quality Casala products are focused on creating modular interior solutions where collaboration amongst people is encouraged.