October 24, 2018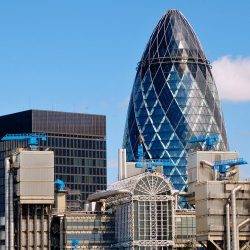 London's office market continues to attract occupiers and investors, despite political and economic uncertainty JLL's recent Central London offices seminar revealed. The event highlighted the strength of the capital's office market where Central London has seen sustained levels of both leasing and investment activity so far in 2018 and JLL anticipates that the final numbers will match, if not exceed those recorded in 2017. Take-up of offices across Central London reached 8.3m sq ft at the end of Q3 2018, with 3.1m sq ft leased in the West End and 4.5m sq ft in the City.
Active demand remains well above the 10-year average, with over 9m sq ft of enquiries currently searching for space – with demand spread across the occupier spectrum. Looking towards the transition around Brexit, and especially in the event of 'no deal' the leasing market could become relatively subdued as occupiers reconsider embarking on any new commitments in the short-term. This will be relatively mild, however, as most demand is driven by unavoidable lease events rather than expansion.
Research showed that £12.2bn of Central London offices have been traded in the first three quarters of 2018 following a strong Q3 performance where £4.3bn of transactions were recorded. These latest year-to-date figures are only 6% down on the corresponding period for 2017, a year which saw record investment volumes of £17.7bn. There is currently £4bn of assets identified as under offer and a further £4bn of stock on the market and whilst this suggests that activity towards the end of the year will remain strong, it also highlights the lack of investment opportunities compared to the same period of 2017 when £16bn was available.
Daisy Hunt, director of City agency at JLL, added: "Much of today's demand is structural and driven by lease events. Regardless of Brexit, these occupiers need to move – especially if the space they are in is obsolete and they are under pressure to provide a more modern and agile working environment to attract talent, which after all is a much larger overhead than property.
"The strong pre-leasing market means that half of the definite pipeline is already leased, ensuring that London is protected against any sector specific shocks."
Neil Prime, head of Central London offices at JLL, concluded: "Whilst there is no doubt that the period to ratification in March is likely to see a slowing in activity, the Central London office market enters this period with strong fundamentals and continues to be one of the most attractive cities in which to invest and do business.
"Whilst Brexit will of course impact, and a no-deal scenario will have significant implications we believe the capital will retain its attractiveness to global investors, particularly those from Asia, who take a much longer-term view, and to occupiers who continue to commit investment into their occupational platforms to access London's unrivalled talent pool."