January 7, 2015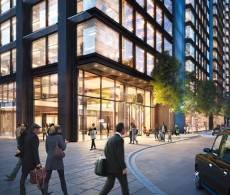 Central London leasing activity hit the highest volume since 2007 last year, while the office market in the city reached its highest volume for 15 years. Take up of central London office space totalled 12.4 million sq ft, when 12.7 million sq ft was let; which is 15 per cent ahead of 2013 totals. According to the latest research by Cushman & Wakefield, while all areas of the capital saw an upturn in activity during 2014, the City of London market recorded the highest volume of lettings for 15 years, with 7.2 million sq ft of transactions completed compared to 7.4 million sq ft in 1998. West End lettings reached 4.0 million sq ft; on a par with the last peak in 2007.  Even Docklands saw take-up double in comparison to 2013 to exceed 1.0 million sq. ft for the first time since 2010; and the serviced office sector is thriving.
There was an increase of 78 per cent year-on-year in serviced office leasing volumes to reach 1.2 million sq ft, with for example the recent letting to New York major co-working organisation Neuehouse at the Adelphi for 63,000 sq ft.
Although the Media & Tech sector grabbed all the headlines last year on the back of several high profile deals, such as Amazon's 431,000 sq ft prelet [pictured] at Principal Place, EC2, and Omnicom's 376,000 sq ft transaction at Bankside 2&3, SE1, 2014 witnessed a more balanced market, with a notable resurgence in activity from the Banking & Financial services sector and the Professional & Business Services Sector.  Media & Tech take-up accounted for 28 per cent of leasing volumes, while Banking & Financial services accounted for 22 per cent — with transactions to M&G, Mizuho and ING boosting the figures.
Andy Tyler, C&W's head of West End office agency, said: "It is clear that the recovery in the London office market has built up momentum, and that improved business sentiment is filtering down to all business sectors. This more diverse source of leasing suggests a more robust and sustainable office leasing market, and we fully anticipate this momentum to carry through into 2015."
Three million sq ft of prelets were signed in 2014, which is the highest volume since the early 2000s and reflects the shortage of quality space, particularly for large requirements.  Société Générale was the largest prelet signed this quarter, committing to 280,000 sq ft at 1 Bank Street, E14.  There have been another seven prelets over 100,000 sq ft during 2014, with the aforementioned Amazon prelet being the largest prelet, and indeed largest transaction, in 2014.
Low levels of speculative development across Central London will result in a squeeze on supply in 2015 and supply will remain low by historical standards.  Preletting is expected to remain a prominent source of leasing activity, while occupiers will become increasingly footloose in their search for suitable space.
Andrew Parker, C&W's head of City of London office agency, said: "The high levels of take-up seen in 2014 has insulated the market from any significant increase in supply levels.  However with development completions in the City of London expected to be at their lowest levels for eight years, supply shortages are anticipated and many occupiers will be forced to compromise or to take a prelet. This imbalance is anticipated to result in a sharp rise in rental values during the next 12 months."