January 7, 2015
A new report by TechPro Research claims that just five years after it was first given the label, the practice of Bring Your Own Device (BYOD) is now so prevalent that nearly three quarters (74 percent) of organisations are either already using or planning to allow employees to bring their own devices to work. The report contrasts with past research into the uptake of BYOD to show how quickly the practice is developing and its implications for companies as a way of introducing new working practices and cutting costs (their own, natch) but also in the way they deal with the potential downsides relating to security and maintenance. The report also looks at the evolving role of the practice in light of new technologies such as wearable tech and the Internet of Things.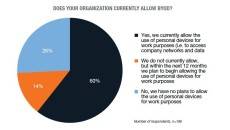 A February 2013 report from the same researchers, found that some 44 percent of organisations surveyed had introduced BYOD and another 18 percent planned to do so with 37 percent eschewing the idea. The new research, carried out in November 2014, paints a rapidly changing picture.
Key findings included:
Nearly three quarters of respondent companies permit or plan to permit BYOD.
BYOD is in greater use among small organisations compared to larger businesses (a trend also found in the 2013 report).
A quarter of organisations of all sizes have no plans to implement BYOD in the immediate future.
The IT and technology as well as education industries are most likely to permit BYOD, while government is most likely to prohibit it.
BYOD is more prevalent in the US and least prevalent in Europe.
Security concerns were the most common reason why BYOD was ruled out by respondent organisations, cited by 78 percent of refusenik organisations.
Other common reasons given for not implementing were increased costs (25 percent) and loss of control (45 percent) and compliance issues cited by over a third (39 percent).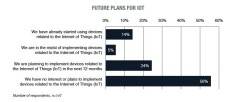 Meanwhile, the research also found that the nascent Internet of Things is more attractive to firms than wearable tech.  Twice as many respondents stated they are already using them and 29 percent are amidst an implementation or planning one in the next 12 months compared to 22 percent doing the same with wearables.