December 12, 2019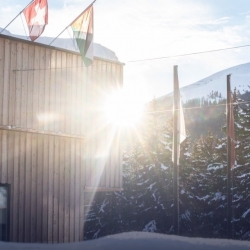 Four years after the Paris Climate Agreement, tangible action from governments is falling well short of what is needed to restrict global warming to 1.5° Celsius. Meanwhile, the actions of the majority of businesses that do support emissions reductions also currently fall far short of where they need to be to address climate change. A new impetus for 2020 to raise company ambitions to net zero emissions by 2050 at the latest, is required. These are the findings of a new report, The Net Zero Challenge published by the World Economic Forum.
The report is published against a backdrop of rising greenhouse gas (GHG) emissions and intensifying fears about climate change. Whereas the Paris Agreement called for emissions reductions of 3-5 percent per year, over the past decade emissions have risen by an average of 1.5 percent a year. This trajectory, if allowed to continue, would lead to global warming of between 3°C to 5°C by 2100, with catastrophic consequences for the planet and societies. By contrast, the Inter-Governmental Panel on Climate Change (IPCC) has called for GHG emissions to fall by 45 percent by 2030 and to reach net zero emissions by 2050 to limit warming to 1.5°C.
"2020 is a crucial year for the Paris Agreement and it is vital that governments and businesses jointly raise their ambition levels and start setting and implementing targets. For both the public and private sector, rapid collaborative action on climate can spur innovation, growth and jobs in a sluggish economic outlook; what the world needs is a combination of public ambition, policy certainty and company leadership to create a tipping point," said Dominic Waughray, Managing Director at the World Economic Forum.
Not meeting the challenge
Just 67 countries have to date stated an ambition to reach net zero emissions by 2050
Just 67 countries have to date stated an ambition to reach net zero emissions by 2050. These countries account for c.15 percent of global GHG emissions. Of these countries, only sixteen (accounting for less than 6 percent of emissions) have developed roadmaps and intermediate targets. Even fewer – seven – countries have instituted policy frameworks that could realistically support reaching a net zero emission goal. These countries – Bhutan, Costa Rica, Denmark, Iceland, The Netherlands, Suriname, Sweden, – account for just 2 percent of global GHG emissions.
The report does, however, find signs of progress that some governments are beginning to set ambitious climate targets. For example, Morocco has developed the world's largest concentrated solar farm with a goal of sourcing 50 percent of its electricity from renewable sources in just 10 years. India is currently implementing the largest renewable power programme in the world, targeting 175 GW of installed capacity by 2022.
In the absence of high enough national ambitions for climate action, the report also finds signs of action at the sub-national level. For example, the state of South Australia is targeting 50 percent renewable power by 2025. In the United States, eight states are targeting zero-carbon energy systems by 2050.
Overall, the report adds to the evidence that there is much political work to be done to raise ambition levels for climate action ahead of when the Paris Agreement is due to begin in November 2020.
Companies need to step up
When it comes to companies and emissions, the report also highlights the gap in ambition that must be closed. Limiting the analysis to the nearly 7,000 businesses that disclosed their emissions to CDP, a non-profit organization that monitors global emissions, the report finds that only a third provide full disclosure, only a quarter set a specific emissions reduction target and only one in eight are actually reducing their emissions year-on-year.
In each sector, there are examples of corporations acting decisively to build a first-mover competitive advantage
There is also a distinction between short term and long-term plans. The report finds that 65 percent of all company emissions reduction targets reported to CDP are short-term with an end-date of five years from now or less.
The report also finds that on average, both short-term and long-term targets are about half of what would be needed for a 1.5°C world; short-term targets currently aim for minus 15 percent instead of minus 30 percent reductions; while longer-term targets currently aim for 50 percent reductions instead of net zero by mid-century.
There is, however, some variation across industries. Financial and energy companies, the report suggests, are the most advanced when it comes to disclosing and setting targets and reducing emissions. In each sector, there are examples of corporations acting decisively to build a first-mover competitive advantage through higher efficiency, lower risks and new green revenues.
The report, which was produced in collaboration with Boston Consulting Group (BCG), identifies two major reasons why corporate climate change action has so far been muted. One is that chief executive officers still find themselves under greater pressure to deliver short-term returns than to demonstrate progress against climate goals. A plethora of ESG (environmental, societal and corporate governance) guidelines has led, in the words of one banking CEO, to "real confusion and little action" in the investment world. The other is the lack of reliable policy frameworks at national and international level. All the 25 CEOs interviewed as part of the project confirmed that without a meaningful price on carbon the transition cannot be accelerated at the speed and scale needed.
A call to action from the World Economic Forum
Whilst diplomatic and multilateral political efforts during 2020 will focus on raising ambition levels among governments, the World Economic Forum will use its platforms to promote a call to action for higher ambition levels among companies on climate change.
This call for action will start in Davos 2020. It includes:
An updated Davos Manifesto for 2020 on the universal purpose of a company for all CEOs at Davos to consider, which notes that a company is more than an economic unit generating wealth. Performance must be measured not only on the return to shareholders but also on how it achieves it environmental, social and good governance objectives.
An initiative underway with the Forum's International Business Council to develop a definitive methodology for standard ESG principles that companies can adopt as a complement to standard financial metrics with support from the "Big Four" accounting firms, which will include common approaches on climate emissions target setting and tracking
The release of a catalogue of "Lighthouse Projects" that show concrete examples of how many leading companies are setting and implementing bold emissions reduction strategies in line with net zero by mid-century, and how other companies can join or replicate these efforts. Such Lighthouse Projects include the Mission Possible Platform, RE100, the UN-convened Net Zero Asset Owners Alliance, the CDSB and over 50 other specific examples of company actions in the climate and wider environmental agenda.
To support these efforts, the Forum has also convened a community of CEO Climate Leaders; these are leaders of some of the world's largest businesses that are committed to support assertive climate action.