March 8, 2018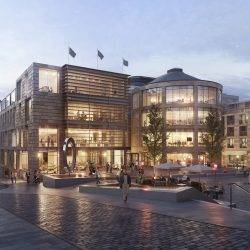 The Scottish commercial property sector contributes almost £4.8 billion to the Scottish economy and supports more than 92,000 jobs, according to a new report. Compiled by the University of Strathclyde's Fraser of Allander Institute under commission by the Scottish Property Federation (SPF) its findings include a comprehensive look at the potential economic impact of new commercial work. In total, the commercial real estate element of Scotland's construction industry has a direct impact of around £2.4bn to Scotland's economy, however taking into account the additional spill-over effects of the industry, the sector is estimated to have a total impact of around £4.8bn.
Looking more widely into the ripple effects of commercial property, the researchers from the University of Strathclyde said that the gross value added to the economy was close to £4.8 billion. The total number of jobs connected with the sector was put at more than 92,000. The study was released at the Scottish Property Federation's annual conference in Edinburgh.
The sector is an important source of tax revenue for both the Scottish and UK governments and is acknowledged as a barometer of economic activity; with the report's authors stating that without high quality and effective commercial property there would be no business activity. Despite this, however, the report also identifies a worrying lack of investable space with the amount of new commercial property being built in terms of square ft. smaller than a decade ago.
In 2009, new commercial property construction equated to 7.1 million sq ft but in 2017 the equivalent of only 1.6 million sq ft was constructed. Similarly, whist the value of sales of commercial property have been increasing in recent years to £3.2 billion in 2016/17, this figure is still significantly lower than a decade ago. The report identifies the untapped potential for growth in the sector and concludes that for a £100m increase in new commercial property output, the economy benefits from a further £73m.