August 22, 2013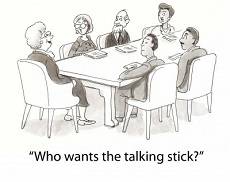 A stream of surveys published over the past few weeks have indicated a deep rooted sense of unease and lack of job security amongst UK workers. Now yet another poll reveals that far from being keen to discuss career progression opportunities, many employees are reluctant to bring up personal development and career progression with their bosses because they think it will put them at a disadvantage at work. According to the new research from Badenoch & Clark, this growing communications gap between employees and managers could lead to lack of engagement and lower productivity within the workforce. Meanwhile too many employers are investing in the wrong kinds of personal development for their staff.
Over four in 10 UK workers (44.8 per cent) report feeling uncomfortable discussing their career progression with their manager. The poll, which surveyed over 1,000 office workers, found that young people (16-24 year olds) were the most unlikely to raise or ask their manager about personal development opportunities, with six in 10 (58.5 per cent) saying that such a conversation would make them uncomfortable.
This is despite the fact that, according to Adecco Group research released earlier this year half of UK office workers aged 34 and under – Generation Y – (47 per cent) want a promotion every two years.
In the Badenoch & Clark survey, of those respondents that feel comfortable discussing career development with their boss, over a third (35.5%) say there is never any time to make it happen and nearly a fifth (16.9 per cent) say it would be frowned upon or wouldn't know how to approach the subject (16.3 per cent).
The research also reveals a lack of understanding about what personal development at work should involve. Over half (51.%) still consider personal development to simply cover normal workplace training courses, regular meetings with their line managers (41.6%) or appraisals (37.6%). Far fewer employees consider broader, enriching activities or opportunities such as secondments (15.2%), coaching or mentoring (18.3%) or subscriptions to key trade publications (7.8%) as part of a standard personal development programme.
UK workers also find online self teaching more effective for personal development than traditional classroom style training courses arranged by their employer (27.7% vs. 19.5%).
The poll highlights the need for organisations to encourage greater discussions regarding career development between bosses and their workers, and to provide employees ample opportunities to take part in personal development initiatives, which improve morale and broaden skill sets, and, critically, increase retention rates.
Nicola Linkleter, Managing Director of Badenoch & Clark said: "A strategic focus on real, effective personal development can help an organisation grow and attract the best individuals. A culture that clearly defines personal development and career progression will see the results of its investment in engaged, happy, productive workers.
"Opportunities to develop should be made clear to workers and conversations around career progression encouraged. This will increase ROI for employers as their best staff engage thoroughly with the company's personal development programme, and actively take action to enhance their own learning as well.
"And with the youngest employees seemingly the most unwilling to speak up, yet at the same time the most demanding of employers, finding ways to engage and support employees at an early stage in their careers through holistic personal development opportunities will necessarily foster a positive environment that workers can be proud of, and within which they can thrive professionally."