October 11, 2023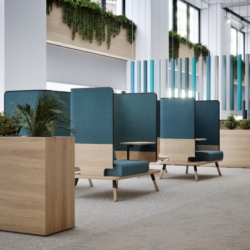 Approximately 20 percent of the population is what is known as neurodivergent, totalling around 13.5 million people in the UK, 150 million in Europe, and 1.6 billion globally. Catering to this large proportion of neurodivergent workers in the population is critical for interior designers and product designers alike, who carry a weight of responsibility when it comes to creating workplaces that not only support and facilitate those living with neurodiverse conditions but empower them to optimise their wellbeing and productivity.
Drift is designed for neurodivergent workers and everybody who requires a tranquil space to help them escape a hectic office environment. The seating booth with integrated worksurface, has been developed with the diverse needs of employees in mind and with recognition of our responsibility to achieve a better environmental balance using the sustainable application of materials.
Made from lightweight PET materials derived from post-consumer waste sources, Drift's surround buffers external noise and controls reverberation, concealing the user to create a calm distraction-free zone. Coupled with the ethically sourced poplar plywood frame, Drift's architecturally sympathetic form provides a stylish and purposeful space.
Increasingly, companies are realising the benefits of having a workplace that embraces a unique blend of personalities. Whilst extroverts more often than not claim the plaudits for workplace victories, introverts are hugely important to commercial success. Introverts require more intimate spaces that enable them to articulate themselves in smaller groups, where they choose to participate, rather than feel the pressure of a large group. Introverts are highly perceptive, considered thinkers and tend to listen before speaking, making them invaluable members of teams.
Everybody is different, which is why Connection creates inclusive workplace solutions that accommodate and cater for as many people as possible, removing barriers and enabling people to work confidently, comfortably, and efficiently.  Connection designs Space That Works – innovative products that work for everyone in every space.