March 9, 2023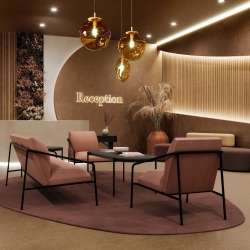 British furniture maker Connection has launched its new Paulo range to meet the growing demand for striking, adaptable workplace lounges as part of the new ecosystem of work. Inspired by the classics of mid 20th Century design, the new range offers an unmistakeably timeless response to a very contemporary challenge; how to make the office the best choice for people who can now work anywhere.
Over the past few years, we have seen the workplace take inspiration from outside influences, particularly in hospitality, giving designers greater scope to intertwine spaces and push creative boundaries. Wellness rooms, work cafes and workplace lounges have all risen in popularity in recent times, with the latter being present in almost all projects nowadays. At the beginning, the specification of workplace lounges in the modern office was about giving employees somewhere to relax and unwind away from the desk, but the wider picture is more complex. Workplace lounge design has become increasingly focussed on physical and mental wellbeing, rather than being positioned purely as a relaxation area.
 Sometimes simplicity is everything. Simplicity in design, simplicity in build, simplicity in function. Inspired by the clean angular shapes of the Bauhaus movement, Paulo juxtaposes rigid steel frames with a soft, gentle seat to deliver stunning aesthetics and a unique sitting experience. Comprising of high and low back lounge chairs, a sofa, and complementary tables, the simplicity of the Paulo range is what makes it beautiful and effective as a solution for any space.
The Paulo range contains high and low back lounge chairs, a sofa, and two complementary tables, to complete a well-rounded range perfectly suited to lounge spaces across workplace, hospitality and education. A sleek yet strong range, Paulo utilises elasticated webbing in the seat and back, mounted atop a robust steel frame, to deliver an entirely unique sitting experience and product range.