March 8, 2023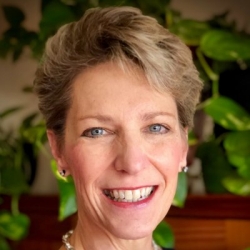 In the latest episode of the Workplace Geeks podcast, one of the world's leading experts on work and workplace, Kate Lister, focuses on a recent study in collaboration with Owl Labs, 'State of Remote Work 2022'. The report, in its 6th year, provides a platform for a much broader conversation about hybrid and remote working (spoiler alert: terms which Kate hates by the way), Kate's invitation to speak during the pandemic to United States Congress about home-working, and GWA's long standing and freely available ROI and savings calculators. James returns following his blacksmithing course in the Peak District to a new discussion format – no more Pinder Ponder, get ready for the reflection section.
Kate Lister is a recognised thought leader on workplace, workforce, and other trends that are changing the who, what, when, where, and how of work. She is president of Global Workplace Analytics (GWA), a research-based consulting firm that has been helping public and private sector employers understand and implement new ways of working for more than a decade. She is considered a global expert on telecommuting and other flexible workplace trends. She was one of only three witnesses invited to testify before the U.S. Senate about expansion of the federal telework program post-COVID-19.
Kate has written or co-authored five books, numerous white papers, and dozens of articles. She is a trusted media source and has been quoted by hundreds of media outlets including the Wall Street Journal, New York Times, and Washington Post. She has appeared on NPR, CNN, CNBC and many other tv and radio shows.
Kate is a member of Workplace Evolutionaries' Strategic Leadership Team, Research Team, and is the curator of the WE:Brief, one of WE's most popular member benefits.
The Workplace Geeks homepage can be found here, brought to you by the great people behind Audiem. All episodes of Workplace Geeks can also be found here.