July 28, 2020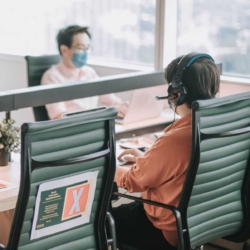 As companies transition back to the office and set out on the road to economic recovery, business leaders are focussed on developing resilient and sustainable strategies. Faced with a new business environment, companies are looking for opportunities to contain office costs, both in the short-term and in the future. Some who have been immune from cost pressures in the past are looking to contain if not reduce costs for the first time. And, after a forced trial of remote working, many are viewing their property portfolio in a new light and questioning whether they are paying for more space than they need.
Many businesses will need to consider reducing their footprint and relocating non-essential functions from high-cost locations. Optimising their property assets will not only drastically impact real estate costs, but reduce facilities management and running costs.
Reviewing the purpose, size, space mix, location and layout of offices, factories, distribution centres and other spaces will be vital, and lower space densities must be considered alongside the widening realisation that flexible working can be 'smart'. In a PwC pulse survey of global finance leaders, 23 percent stated that they were planning to implement reductions in real estate footprint once they began the transition back to on-site work.
The impact of the pandemic on location and space requirements will vary from business to business. Companies should factor in changes to operating models, workforce structure, supply chains and, importantly, employee attitudes to identify where they are paying for costly surplus space, and size the prize from changing their portfolio.
The future is flexible
Covid-19 has accelerated the trend towards flexible working, giving employees a taste of the improved work-life balance it offers. This may encourage many companies to adopt a smart working strategy, incorporating flexibility into their business culture.
Research results, including Avison Young's soon to close survey on the impact of the health crisis on real estate porfolio strategy, show that the many executives are considering making remote work a permanent option where possible, and the majority believe that the flexibility they have developed in response to the crisis will benefit their company in the long run.
As businesses adjust to their changing space requirements, they may look for more flexible premises, such as co-working spaces, which offer shorter leases and can be adapted to the companies' needs. Alternatively, with social distancing measures limiting capacity, companies may need to reassess how they can get the most out of their existing office space. This may involve repurposing conference rooms to accommodate more workers and renting out flexible work spaces for meetings where needed.
Moving out
Changing demands may also lead to increased popularity of the Hub and Spoke model, in which companies have a main office base with a number of smaller regional offices in more rural or suburban locations. Although a head office in the city will still be a vital hub for client meetings, seminars and training sessions, spreading office spaces across a wider geographical area holds a range of benefits.
Trading larger, and more expensive, city offices for smaller decentralised workspaces may enable businesses to lower their footprint and office costs, while also securing new business territories and attracting new recruits.
While many workers will be keen to get back to the collaborative environment and reliable technology provided by the office, few will be looking forward to resuming the daily commute. Research by Workthere found that there was high demand for rural flexible offices from employees even before the outbreak, with only 8 percent of respondents working in rural flexible offices, but 17 percent citing it as their preferred location. Reduced journey times will not only lead to a safer and happier workforce, but a reduced carbon footprint.
Long-term benefits
Implementing these cost-saving strategies has the potential to drive value for companies in the long-term and contribute to wider business objectives. Significantly, reevaluating their office space will help companies to work towards their ESG goals by cutting their energy consumption.
Offering more flexibility is also likely to lead to an improved employee experience. In this period of great uncertainty, giving employees control over their working schedule and environment will have a positive impact on wellbeing. This in turn could lead to a boost in employee engagement, productivity and loyalty. And, at a time when physical health is at the front of everyone's mind, flexibility of location has the added benefit of lowering the risk of infection, increasing a company's resilience.
As we move towards a hybrid working future, companies must examine how they can reconfigure their real estate portfolio to cut office costs while powering a productive workforce. Although the prospect of relocation may seem daunting amid the huge disruption of Covid-19, the companies that identify these efficiency opportunities early on will thrive moving forward. As well as reducing overheads in the short-term, setting these strategies in place could drive value for businesses in the long-term.