December 4, 2018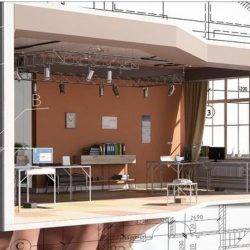 An alliance of experts specialising in digital, manufacturing, building performance standards and construction technology has been awarded leadership of a new national Hub to drive innovation and technological advances in the UK construction and infrastructure sectors. Following a nationwide competition, Innovate UK has awarded £72 million to the Transforming Construction Alliance to deliver a national Core Innovation Hub, a key element of the Transforming Construction programme. The alliance brings together the specialist expertise of the MTC (Manufacturing Technology Centre), BRE (Building Research Establishment) and the CDBB (University of Cambridge Centre for Digital Built Britain).
Announcing the award at BRE Watford on 30 November 2018, Business & Industry Minister Richard Harrington said "We have the opportunity to revolutionise construction in the UK and the Core Innovation Hub will help us build smarter, greener and more efficient buildings much faster and cheaper than we do now.
"From the introduction of virtual reality to off-site manufacturing, our modern Industrial Strategy, is helping the UK construction sector to develop new techniques and skills – modernising the sector and delivering the homes and buildings our nation needs."
Transforming Construction Alliance secures £72 million government funding to drive innovation and boost UK construction productivity
From left to right: Martin Ganley, Director, BRE | Keith Waller, Programme Director, TCA | Niall Trafford, Acting CEO, BRE | Richard Harrington MP, Business & Industry Minister, BEIS | Nik Thomas, Head of Operations, CDBB | Neil Rawlinson, Strategic Development Director, MTC
Supporting the announcement, Exchequer Secretary to the Treasury Robert Jenrick said "Our manufacturing industry is vital to the UK, contributing billions to the economy every year. This new fund will see it partner with our construction and digital sectors to revolutionise the way we develop crucial infrastructure. It will enable us to build in more efficient and cost-effective ways, boost productivity and ensure we are fit for the future."
The Core Innovation Hub aims to be the catalyst to transform the way buildings are designed, manufactured, integrated and connected within the built environment to create high-performing buildings and infrastructure with strong levels of safety, quality and energy performance. It will also support collaboration to develop and commercialise digital and manufacturing technologies for the construction sector.
Keith Waller has been appointed Programme Director to lead the Core Innovation Hub project on behalf of the Transforming Construction Alliance. A civil engineer by profession, Mr Waller led development of the recent Transforming Infrastructure Performance report. He has worked across government and industry to drive innovation and improve outcomes in support of Industrial Strategy ambitions. "I am delighted to be leading the Transforming Construction Alliance in its mission to boost productivity and performance in the sector," said Mr Waller, "I look forward to working alongside government, industry and the talented teams at MTC, BRE and CDBB to realise the vision of a transformed construction sector."
Neil Rawlinson, Strategic Development Director at MTC, commented that the MTC has an established and well proven track record in supporting manufacturing innovation across a range of sectors: "There is huge potential for transformation of large parts of the construction sector to a manufacturing industry. The widespread appetite for change throughout the industry and the impact that this change will have on so many aspects of life in the UK make us enormously excited to be delivering this pivotal role. The MTC brings several key capabilities to the hub, such as design and simulation, process and manufacturing system development, including automation and visualisation. The complementary skills of the alliance partners will ensure we deliver for Industry and government."
BRE Director, Martin Ganley, highlighted the impressive range of essential knowledge and experience that alliance members contribute to this important initiative: "We are delighted to host the visit from Richard Harrington MP to BRE. BRE is one of the world's leading independent knowledge centres in construction testing and performance standards for the built environment. BRE's expertise in the testing and validation of new products, processes, data and assets will support this key move to digitising construction and we will also play a leading role in industry engagement and the deployment of demonstrators at our BRE site in Watford."
Professor Andy Neely, Pro-Vice Chancellor for Enterprise and Business Relations at the University of Cambridge and Director of the Centre for Digital Built Britain, explained how, with government and industry poised for change, the funding of the alliance is timely: "The alliance brings together three trusted organisations with strong research, development and engagement programmes to deliver the evidence base and value case for change, alongside those who will benefit most from it. CDBB will collaborate widely to deliver a digital programme that will create the framework to underpin the future built environment and grow export opportunities for the UK."
The Industrial Strategy Challenge Fund will strengthen research and innovation in science and business in the UK. Its Transforming Construction programme aims to support £600 billion worth of infrastructure and construction projects over the next decade, creating new processes and techniques, including standardisation of modular components for manufacture.