May 7, 2020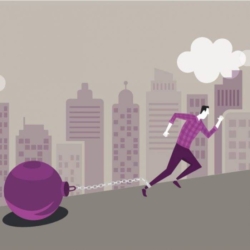 Freelancers' confidence in their businesses and the wider economy has been driven to record lows by the Coronavirus crisis, according to research by IPSE (the Association of Independent Professionals and the Self-Employed) and PeoplePerHour, Europe's largest freelance marketplace. Freelancers' three month confidence in their businesses had already fallen to a six-year low last quarter because of concerns about the changes to IR35 tax regulations.
This quarter their confidence in their businesses for the next three months fell even further from -14.7 last quarter to -62.6. This is by far the lowest level it has reached. Their confidence in their businesses for the next 12 months has also fallen to the lowest level on record: from -23.2 to -57.3. These are both not only historic lows, but also the biggest one-off drops in confidence by some distance.
Confidence in the wider economy has dropped drastically too, having begun to recover last quarter from record lows driven by Brexit. Confidence in the economy over the next year fell from -39.3 last quarter to -77.8. Meanwhile, confidence in the economy over the next three months fell even lower, from -36.8 last quarter to -86.6. It therefore seems freelancers believe the Coronavirus crisis will have the worst effect on the economy in Q2 2020. This is an extremely sharp fall in confidence – perhaps reflecting the sharp fall in demand in the wider economy.
Added to the drop in confidence, freelancers have seen a fall in pay and the amount of work they are doing. Their spare capacity (the amount of weeks they are not working) rose from 2.6 last quarter to 3.3 weeks. Although freelancers' average day rates remained relatively stable at £430 (down just £3 on last quarter), the fall in the amount of work drove their quarterly earnings down by 8.4 per cent. Freelancers are also extremely pessimistic about the coming year, with two thirds predicting a fall in their rates – with the average predicted drop at 20.1 per cent.
Freelancers' pessimism is clearly driven by their concerns about the impact of the Coronavirus crisis on the economy. All groups surveyed (Standard Occupational Classifications 1, 2 and 3) said the top factor driving down their business performance is – by a substantial margin – "The state of the UK economy".
Professor Andrew Burke, Dean of Trinity Business School, Trinity College Dublin, and one of the Index authors, said: "The Covid-19 health emergency has also had a serious negative impact on the economy and caused a steep fall in freelancers' business confidence. There is room, however, for some optimism that freelancers' fortunes may improve a little after the Coronavirus crisis.
"During the lockdown, many organisations have had to adopt remote working practices. When the post Covid-19 economy restarts, many organisations that were previously sceptical about remote working may be more open to flexible work and freelancing. As many of these firms will also be struggling with their cash flow to begin with, the variable cost 'pay as you go' freelance workforce model will be particularly appealing."