June 18, 2019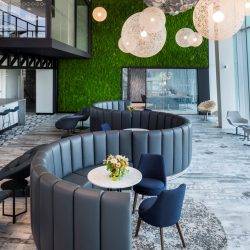 The flexible office and coworking markets have grown rapidly over the last five years, with more than 4 million sq ft leased to flexible office providers in Central London, according to a new report from digital office broker Hubble in partnership with JLL. Despite WeWork dominating the headlines and pioneering the uptake of coworking, the London market remains highly fragmented, with more than 150 providers offering some form of flex or coworking space in more than 650 separate locations. Flexible offices are projected to grow to a 11 percent share of overall office stock in London by 2023. At the end of 2018, flexible offices had a 6.3 percent share of the Central London market (14.7 million sq. ft.) and this number is set to keep growing.
While Central London is generally synonymous with higher rents, with most private offices costing around £500-800 per desk each month, there are also areas with rents as low as £279. The report looks at areas which have seen the highest demand, and in turn increases in prices, and where tenants can secure cheaper space. Temple has seen the greatest increase in cost per desk (69 percent) between 2017 to 2018. The regeneration of Victoria has been reflected in desk price with an increase of 30 percent, closely followed by Hoxton (25 percent) and Marylebone (25 percent).
Hubble has also looked at areas where the average price per desk in London (£495) can be halved – prices have decreased in Peckham Rye by 9 percent and the average desk now costs £175. Hoxton also provides good value for money with desks costing £298 – though this has increased by 25 percent since 2017. On the other hand, Charing Cross has seen a 23 percent decrease but monthly desk rates still remain in line with the London average at £534.
Popular areas
Particularly popular areas are Waterloo and Southbank. The report claims that there has been a large rise in prices around London Bridge rise (+7 percent) despite a big increase in supply, and neighbouring Borough (+19 percent) has also started to gain in popularity as high-quality operators rush to open workspaces in the area. Though prices have gone up, businesses are happy to pay the higher rents in return for premium offices and an enviable location.
At Canary Wharf, the average monthly price per desk fell by 6 percent in 2018 compared to the year before. Whilst Brexit has caused a number of businesses to relocate to other parts of the city, or even to other financial hubs abroad, it's possible that many businesses are finding Canary Wharf less attractive than central locations and the enhanced amenities, connections and wider talent pool they can offer. Nevertheless, pricing in the area remains relatively high, and businesses can expect to pay over £600 pp/month. The most expensive place in the Capital for a desk (on average) remains on Bond Street (£850), closely followed by Marble Arch (£800) and Green Park (£781).
Elaine Rossall, Head of UK Offices Research & Strategy at JLL, said: "The flexible office market in Central London is by far the largest and most developed in the UK. The sector has seen its footprint expand rapidly over the five years from 2013, increasing by 26 percent per annum, compared to just 9 percent per annum in the previous five years. Looking forward, we anticipate that the sector will expand further, in response to growth in demand from larger companies and changes to the way we work – we estimate that by 2023 it will account for 11 percent of the office stock."
Image: LEO Nova North designed by Area