October 25, 2013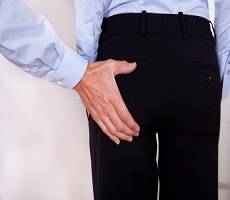 Are we dangerously unaware of or perhaps even becoming dismissive about the nature and extent of sexual harassment in the workplace today? A recent survey, commissioned by a firm of solicitors, has thrown up some statistics which point to significant levels of harassment being experienced by both men and women at work. In the poll of 1,579 working people 60 per cent of women and 40 per cent of men reported that they had experienced "inappropriate" behaviour with much of it classed as persistent, degrading and embarrassing. The behaviour that most people complained about involved some degree of unwanted physical contact but also included colleagues watching pornography in the workplace.
The legal definition of sexual harassment is conduct of a sexual nature which violates a person's dignity or which creates an intimidating, hostile, degrading, humiliating or offensive environment. In the face of this evidence we ought to find it surprising and disappointing that so few people feel the confidence to come forward and speak up.
Part of the problem is likely to relate to the difficulty of raising such a serious allegation and the fear of colleague fall-outs and repercussions.
Gloria Del Piero, Labour MP and shadow Women and Equalities Minister commented "We should be doing more to empower women to challenge this behaviour and come forward and report it to their employer".
Very little current commentary or attention is given to the harassment of men in the workplace despite the fact that it appears that this trend is rising.
In the face of such difficult challenges what can companies do to minimise harassment in the workplace?
Introduce an Anti-Bullying and Harassment Policy.
Provide staff with regular training to make sure that they are aware of the policy and what types of conduct qualify as sexual harassment.
Encourage a supportive working environment and indicate that any complaints, whether they are from men or women, will be sensitively handled in a fully confidential environment.
Investigate any allegations of sexual harassment without delay and consider if there is a need to take any disciplinary steps.
Putting these types of measures in place will not by itself change the workplace culture. Senior management figures need to recognise that simply having a policy and training in place is not enough and they need to be at the forefront of changing office culture by setting their own behaviour as an example in front of their colleagues.
Dealing with these types of issues properly will foster a happier and more productive workplace. Failing to do so allows corrosive behaviour to continue undermining employee trust and confidence and potentially damaging a company's reputation and profile.
 ________________________________________

Founder of Loch Associates, Pam Loch is a dual qualified lawyer acting for employers and employees and advising on all aspects of employment law. She is Managing Partner of niche employment law practice, Loch Associates Employment Lawyers and Managing Director of HR Advise Me Limited.