August 6, 2020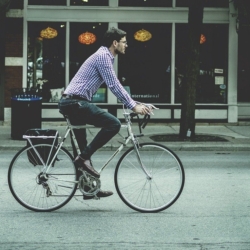 According to the latest data from the Cycle to Work Alliance, June 2020 saw a 120 per cent increase in the number of people joining the government Cycle to Work scheme. Introduced in 1999 as part of a series of measures under the government's Green Transport Plan, it is now undergoing a revival as thousands of people remain reluctant to use public transport fearing exposure to COVID-19.
At the end of July, Boris Johnson revealed an ambitious plan to boost walking and cycling in the UK. The specially designated £2bn fund would pay for thousands of miles of protected bike lanes, as well as cycle training for both children and adults, showing the government's clear commitment to establishing cycling as our preferred mode of transport.
COVID-19 has forced companies across the country to reconsider many things, among which technology, wellbeing and space. This renewed focus on cycling is set to have important implications for offices, their location and facilities, offering employers a great opportunity to re-engage staff and show they really care.
Lessons from lockdown
Back in March, when the government lockdown was introduced in a bid to limit the spread of COVID-19, thousands of people were told to work from home, which led to a painful transition for some. Employees faced a whole array of challenges: some were forced to home school children in addition to full-time work, while others were stuck indoors working alongside several housemates.
On the positive side, this challenging period has resulted in an important revelation: lengthy train journeys do not need to be an essential part of work life. Now that offices are starting to reopen, many people are unwilling to jump back on the train for a 50-minute commute, so there is a clear need for a solution that would help employees save time, stay safe and be able to work in a social environment again.
As companies are trying to figure out how to best reconfigure their office spaces, many have started exploring the option of setting up regional hubs to spread the workforce. Setting up local hubs means that many more employees will be able to cycle or even walk to work while retaining the benefits of working in a social environment and having a clear separation between office and home.We're going to see even more office spaces in residential areas.
Accommodating cyclists
Another reason why cycling is experiencing a renaissance is because it allows people to maintain physical activity without committing to a gym membership. Furthermore, daily cycling to work allows people to save money that would otherwise be spent on a travel card.
Given that the number of cyclists is on the rise, what tenants want from office spaces is set to change, too. Previously, cycle stores and showers were a nice add-on, however now it will become a necessity. Pre-COVID, some offices were offering gym facilities or even group exercise classes, whereas now, with the need to maintain social distancing, access to such facilities has either been reduced or put on hold. What this means is that the role of cycling has changed – from a mere form of transport it is now vital to many people's daily wellbeing, so enabling that through the provision of facilities should be a top priority for considerate employers.
COVID-19 has brought a paradigm shift, with many people reassessing how they want to live their lives, and wellbeing has come to the forefront. With that in mind, those who want to retain staff and encourage people to go back to the office will need to be able to offer the right conditions to ensure employee wellbeing – both physical and mental. From providing offices spaces outside of central London, to equipping them with cycle-friendly facilities – all of these things will ultimately result in tangible benefits for companies, including reduced absenteeism due to improved health and substantial rental savings, making it easier for everyone to adjust to normal life post-pandemic.