July 7, 2015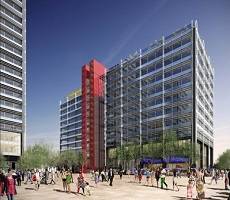 The amount of leased office space in London over the first half of this year is 13 percent ahead of the same time last year, according to new research published by commercial property consultancy Cushman & Wakefield (C&W). Leasing activity totalled just over 6.26 million sq ft from January to June 2015, compared to the same point in 2014 when 5.6 million sq ft was transacted and is the highest Central London first half total since 1998, when 6.7 million sq ft was let. According to C&W, the figures presented in the report suggest that there was a significant upturn in activity in East London, with 1.2 million sq ft let, only marginally behind the City market (1.24 million sq ft) and significantly ahead of West End volumes (915,000 sq ft).  East London offices take-up was at its highest level since Q4 2010 as a result of three transactions over 100,000 sq ft.
These comprised; FCA (Financial Conduct Authority) with 425,000 sq ft at The International Quarter, (TIQ) Stratford, Transport for London (TFL) [pictured] with 250,000 sq ft at TIQ Stratford and Deutsche Bank, with 389,000 sq ft at 10 Upper Bank Street, Canary Wharf.
Elaine Rossall, C&W's head of London Markets research, said: "This quarter the focus of leasing activity has all been in East London, as occupiers seek good quality cost effective space and are buying into the positive benefit of Crossrail.  Canary Wharf, in particular, has moved from double digit vacancy rates just 12 months ago to one where the vacancy rate is now on a par with the City. "
Pre-letting activity returned to the market in Q2, with over 1.0 million sq ft of pre-lets signed this quarter or 31 percent of total volumes.  As well as the two TIQ transactions, the other major pre-let was a further 190,000 sq ft transaction to Google at Kings Cross, which brings their commitment to the area to 1.3 million sq ft.
Andy Tyler, C&W's head of West End office agency said "With the Central London vacancy rate falling to 5.0% over the quarter,- the lowest level since 2008, pre-letting is anticipated to remain a key feature of the lettings market in the coming months as occupiers, particularly those with larger requirements are increasingly  frustrated in their search for space."
The leasing market continues to be more balanced in terms of sectors, with banking and financial services occupiers most active this quarter.  As well as the transaction to Deutsche Bank, there has been a flurry of banking and financial services deals in the 20-50,000 sq ft range, including Commonwealth Bank of Australia, HSBC and PJT Partners.
Prime rents continue to rise, with average rental growth of 8 percent across Central London in the year to June, with higher rents in the City and the East London.  Prime rents in the City now stand at £64.50 per sq ft and in the West End at £125 per sq ft.  With supply expected to contract further during the remainder of the year, C&W expects rental growth to pick up in the latter part of the 2015.
Andrew Parker, C&W's head of City of London office agency, added: "We are increasingly observing rents achieved in the £70s for upper floors and terraces in non-tower space. This willingness of occupiers to pay above prime rents, reflects increasing occupier confidence in the market place."