July 7, 2015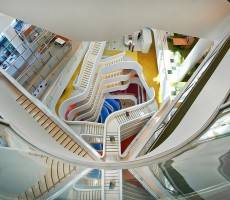 For some time now, the most talked about workplace issue has been wellbeing. Where once firms sought ways of using office design to solve a productivity puzzle, they are now increasingly concerned with the mental, psychological and physical health of employees. This is the case for most organisations but doubly so for those whose business is directly related to those issues, such as Melbourne based health insurance firm Medibank. The firm, Australia's largest health insurer has moved to a new headquarters building in the Docklands district of the city and took the opportunity to create a space which it claims should be hardwired with the proactive principles of personal wellbeing and health with which its business is associated. The building has been designed by Hassell to meet these principles and includes a facility with outdoor sporting facilities, an edible garden and other green spaces.
The interior embraces the key modern design principle of providing a range of settings for different types of work as well as encouraging people to move around the building. In the case of the Medibank HQ this is not just driven by the traditional factors of flexibility and empowerment but also the desire to create the world's healthiest workplace. Staff are allowed to choose in which of  26 different zones they would like to work ranging from team and collaborative spaces, private spaces and – inevitably – places to work while standing. Circadian lighting in parts of the workplace mimics natural daylight patterns. According to the designers, this marks a shift beyond activity based working to something they call health based working.
Access to the building and between its floors has also been designed to support a degree of activity. The ramp from the main entrance spirals up towards a bike store. Similarly, the most easy to use access between floors is stairs, according to the designers.
There are 2,300 plants inside the building and 520 in modular planter boxes on its façade, as well as two 25-metre high street-facing green walls which cover around a tenth of the building's surface area with native plants.
According to early post occupancy studies, the signs are that the building is delivering on its ambitions. Four months after moving in, 79 percent of employees reported they were working more collaboratively and 70 percent said they feel healthier, 66 percent of claim to be more productive and there has been a 5 percent fall in absenteeism at the call centre.
Images: Hassell / Peter Bennetts