March 22, 2021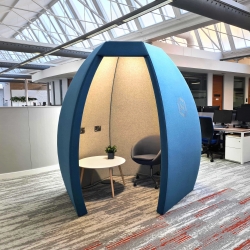 With workplaces up and down the country now following new rules and regulations – and with online meetings also the order of the day – colleagues everywhere may be feeling demotivated.
Saltaire-based AgileAcoustics – a company known for its noise cancelling solutions for use in offices across the UK – aims to change that, though, by creating a product that revolutionises the way people work (and relax) in the office.
Meet AgilePOD – a cocoon-like, powered pod for meetings and breakout spaces. Used to great effect to ensure noise reduction on video calls, or as a handy place to catch up with a colleague during a break, the pods are piquing the interest of many companies.
Since launching the innovation in February, a global online auction site, London-based agency Edelman, and Britain's very own National Health Service have been in touch with the AgileAcoustics team to enquire about the AgilePOD.
The futuristic-style offering is ideal for colleagues who spend most of their day staring at a screen on an online call. They also provide a comfortable and practical meeting space, while keeping noise to a minimum, thanks to their fantastic acoutic properties.
Marrying style with functionality
Yet another design from AgileAcoustic's Salts Mill headquarters, it marries style with functionality and will complement any space. Avaiable in a host of colours, the pods can also include company branding or logos.
The AgilePOD (pictured) is one of four bespoke pods the team of innovators and manufactures made for the London HQ of global communications agency, Edelman.
With over 6,000 members of staff across 60 offices, Edelman delivers communication strategies to a wealth of clients. Antony Wiltshire, Director of Workplace & Facilities tells the team he loves the new additions to the workspace – and that his colleagues will, too, when they return to the office soon.
A full-on year for office workers everywhere
Ensuring noise and reverb is kept to a minimum, AgileAcoustics' AgilePODs don't just look great; they make catching up with a workmate or client smooth and stress-free – and they can be used in offices to divide up areas, or in breakout rooms.
"We are absolutely thrilled to be partnering with so many big brands and companies to revolutionise workplaces everywhere," says AgileAcoustics' Managing Director, Stuart Jones. "It's been such a full-on year or so for everyone – and if our pods help people to work more productively during their busy working day, then that's great."