November 19, 2015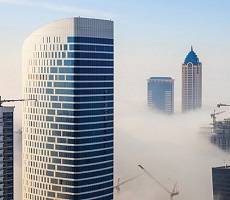 The Dubai office market is showing signs of cooling, following a strong growth period, with average rents remaining unchanged during the first three quarters of 2015 across all the city's major submarkets and free zones. Clutton's Winter 2015/16 Dubai Commercial Market Outlook report revealed prime, secondary and tertiary office rents stand at AED 250 psf, AED 130 psf and AED 70 psf, respectively. However, micro-markets, which are often as small as specific buildings, buck wider trends, such as Emirates Towers (AED 310 psf) and The Gate District (AED 225 psf). Banks, financial institutions, law firms, construction companies and technology-media-telecoms (TMT) firms are the most active occupiers, with the city's free zones remaining the primary target. This is because the free zones continue to be dominated by multinational organisations, with take-up activity intrinsically linked to business performance in their home markets.
For example, hydrocarbon-based occupiers are consolidating office space as global headcounts reduce – though this is a minor occupier group in Dubai compared to other regional markets.
These free zones are reviewing expansion plans to cater to the buoyant level of requirements, with schemes such as the Innovation Hub at Dubai Internet City expected to ease pressure on rents once completed in Q4 2017.
Steve Morgan, Cluttons Middle East CEO, commented, "Space requirements from these segments are undoubtedly lower than this time last year, however, the limited amount of new stock deliveries in these areas, coupled with a steady rate of requirements, is putting upward pressure on rents in key locations and buildings.
"We are seeing some migration to submarkets such as Business Bay where average rents range from AED 70 psf to AED 120 psf and are perceived to offer better value for money compared to Deira or Bur Dubai. Business Bay is also more centrally located, as the city's centre of gravity continues to drift further south."
New free zones are also seeing increased interest and activity. EnPark is Dubai's latest success story and US-based energy sector occupiers show high levels of interest in securing space at TECOM Investments' specialist Dubai Biotechnology & Research Park (DuBiotech).
Faisal Durrani, Cluttons Head of Research, said "With the global growth outlook faltering we expect occupier activity to slow and office requirements to shrink during next 12 months. This comes at a time when land values in submarkets such as Business Bay are cooling and, therefore, improving the financial viability of previously stalled projects that are now resuming construction.
"There is a risk of supply inching ahead of demand, although a lot of this is likely to be in the Grade B category."