May 18, 2021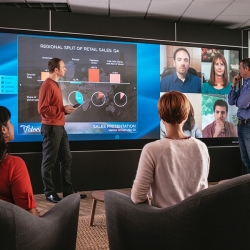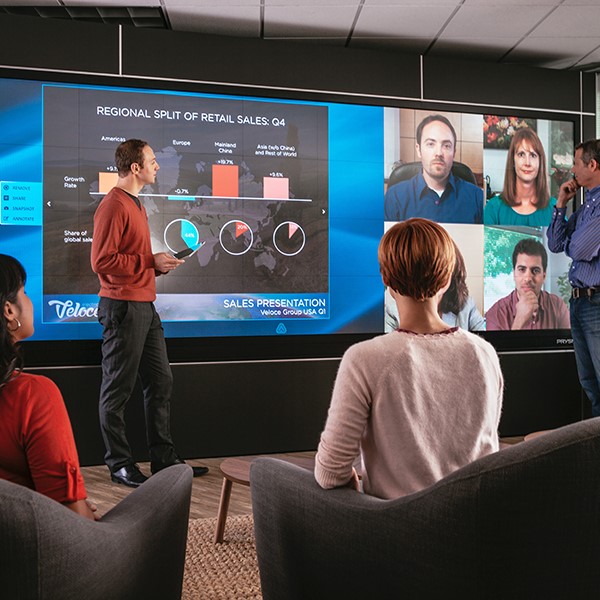 The workspace innovator DV Signage has partnered with Scale Space, the UK's community for scale-ups, to offer an exciting new Collaboration-as-a-Service workspace to be branded Interaction.Works. The Interaction.Works concept responds directly to the emerging hybrid working trend as companies begin shaping the Future of Work as the UK emerges from lockdown.
Interaction.Works brings together the installation, integration and workspace design expertise of DV Signage, with the very latest Prysm 6K LPD Prysm 190 inch canvas and collaborative software, to create a cutting-edge collaboration space that can be configured for team collaboration events, management strategy and ideation sessions, remote team co-working, product launches, product demonstrations and more.
The very first dedicated Interaction.Works space, which will be complete within the next two weeks, is situated inside Scale Space White City, in the heart of a newly-designated Innovation District for West London owned by Imperial College.
The impressive 200,000 square foot Scale Space building provides a home to Imperial College Business School, Blenheim Chalcot's portfolio of venture businesses and an increasing number of scale-ups in the digital and life sciences sector. Scale Space offers its members a unique combination of onsite university connections, venture building know-how and co-working office space with communal facilities to help them scale rapidly and successfully.
Massive changes
Interaction.Works is the brainchild of Richard Cobbold, founder of DV Signage who has teamed up with Prysm Systems and Scale Space in response to the massive changes in working practices driven by the pandemic.
Interaction.Works allows firms to benefit on demand from a fully managed, fully-catered, tech-supported and high-spec innovation environment
"The WFH (Work From Home) revolution has all but eliminated 9 to 5, 5 days a week office-only working," he says. "Going forward firms will need to re-imagine their offices as branded venues that make the most of bringing their employees together, inspiring team co-working and enhancing group collaboration. Technology, architecture and workspace design that seamlessly blends that physical and virtual divide will be key."
Interaction.Works will be London's first dedicated Collaboration-As-A-Service showcase – combining the very latest in large scale collaboration technologies with  on demand professional facilitators and accredited training programs to ensure optimised business outcomes and enhanced digital productivity in the 'new normal'.
"These are the technologies and business practices that have underpinned the competitive edge previously enjoyed only by the big multinationals," says Richard Cobbold. Interaction.Works for the first time makes these available to businesses of all sizes. As businesses begin to rationalise their workspace requirements around hybrid working, at-home employees will need to seamless mix with in-office teams. Interaction.Works shows how this is possible, either on-demand in our specialist shared facility or deployed directly to a corporate customer's own workspace."
Whether companies bring their teams together once a month, once a quarter or once a year, accessing Interaction.Works allows firms to benefit on demand from a fully managed, fully-catered, tech-supported and high-spec innovation environment for hybrid working.
Cobbold added: "We ensure these spaces are highly accessible. We surround them with technical support and specialist training capability – and ensure that each and every time an organisation gets it teams together the purpose of that meeting is achieved: creativity is unlocked, deals get over the line and those that cannot physically be there have the same high quality, immersive experience as those that are."
Michael Holmes, CCO of Scale Space added: "We are delighted to offer cutting-edge collaboration facilities within our White City building. Previously a privilege of larger firms, this high-end technology will be shared as a service within our space, democratising its use and allowing our member companies and Imperial College MBA students to access tools they would not otherwise have easy access to. This will no doubt foster innovation, which is ultimately what we are here to facilitate."