August 18, 2016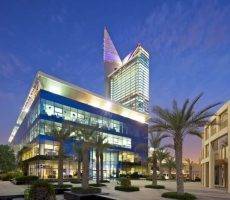 There has been a reduction in demand for office space in Dubai over the past six months, as the ripple effect of the oil price collapse and the subsequent economic slowdown in the rest of the Gulf reverberates across the emirate's commercial property market. As firms retrench staff and reconsider their future strategy in the wake of global economic challenges, decisions to acquire, expand or move office space have commonly been put on hold according to Cluttons' latest Dubai Office Market Bulletin. This has resulted in an exaggeration of the seasonal summer slowdown throughout late Q2 and early Q3 2016. Cluttons' research also highlights that, the general lack of rental growth is unlikely to change in the short-term. Across the market as a whole, rents are not expected to fall much further, particularly as they are at a point where they are considered to be fair market value and landlords appear unwilling to lease below a certain level.
According to the report, rents remained stagnant in the second quarter of 2016, with falls recorded in six of  Dubai's 22 submarkets.
Faisal Durrani, Head of Research at Cluttons, explains "Based on our research, landlords are offering increased incentives, such as rent free periods and fit out contributions to attract tenants and as such we expect a period of minimal rental change for at least six to nine months before there are any signs of an uplift."
Strang concluded, "Despite the slowdown, a number of submarkets contain buildings that do not follow the same trajectory as the wider market and have rents that go beyond the upper limit figures as they are considered flagship, prime, signature schemes.
"For instance, Burjuman Business Tower (AED 180 psf), commands rents above the circa AED 120 psf  rate for the remainder of Bur Dubai because of the unique quality of office space and specification it offers. Also, Emirates Towers in Sheikh Zayed Road, remains extremely popular and has very low vacancy rates, despite the slowdown in the wider market."
Murray Strang, Head of Cluttons Dubai, said "Free-zone areas have remained in relatively high demand. This includes areas like TECOM's Dubai Internet City (DIC), Media City (DMC) and Knowledge Village (DKV), DIFC and Dubai Design District (D3), which all contain internationally recognised Grade A space. As such, the prime, central areas of these free-zones have very low vacancy rates, of around 5%, compared to submarkets such as Sheikh Zayed Road (Trade Centre), which has stock of mixed quality and age, and vacancy rates closer to 20 percent."
Click here to download a copy of the report.