October 1, 2020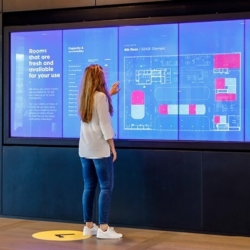 Sustainable  tech-led real estate pioneers EDGE have built upon their already impressive reputation as an innovator with the launch of a software platform that offers what the firm claims is a "seamless solution for optimising any office building's performance". It claims that EDGE Next allows "tenants and owners to transform their offices into smarter, healthier and more sustainable spaces in which people and companies can truly thrive". The EDGE Next platform also sets out to ensure the wellbeing of employees by monitoring air quality and the numbers of people in a spaces, which it claims will make offices safer for work during the COVID-19 outbreak and beyond.
This integration of tech with the built environment sets out new frontiers for the way we work and follows the launch of related products from the likes of Siemens and GoSpace.
The Director of EDGE Next is Sandra Gritti, who was interviewed by us in January of this year for Issue 1 of IN Magazine and in a podcast last year.
The EDGE Next platform collects and analyses data from existing building management systems, additionally placed mobile sensors and a variety of other data sources. The data is combined in a dashboard, offering an overview of actionable insights into sustainability metrics, space efficiency and health and well-being measures. Additionally, automatic reports can be generated for stakeholders and building users can be informed with narrowcasting solutions. Built on the latest Microsoft Azure technologies, the EDGE Next platform claims to be the only fully operational platform to date on Azure's new Digital Twin.
What makes the EDGE Next platform truly unique according to the firm is the way data is presented in a "holistic overview" with actionable insights to optimise building processes. The dashboard offers information 24/7 from various data inputs, such as energy usage, air quality, indoor comfort and occupancy. This saves time and allows for easy reporting to internal and external stakeholders. By monitoring the energy consumption and performance of installations, EDGE Next can play a key role in reducing the building's environmental impact and carbon footprint. Having access to occupancy data allows for the optimisation of space usage, which can increase operational efficiencies and lower overhead costs.
An example of this is that the EDGE Next platform can correlate light levels, occupancy and temperature data to shut off lighting, heating and cooling systems when spaces are unoccupied, enabling significant energy savings without compromising the health and wellbeing of building users. Furthermore, the EDGE Next platform allows real estate managers to monitor the actual building occupancy at a granular level, so that fact based decisions can be made on the opportunity to serve more employees in the same building with the growing trend of homeworking or to justify the down- or up-scaling of a company's office portfolio.