April 22, 2020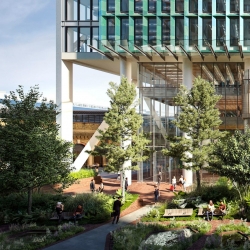 EDGE, the developer of a number of groundbreaking, energy-efficient office buildings has reveals its designs for its new London project. The name of the new sustainable development at St Thomas Street on London's South Bank is EDGE London Bridge. The development aims to make the 255,000 sq ft nia (23,500 sq m) tower featuring 26 floors of commercial office space into London's most sustainable office tower.
EDGE London Bridge is designed to achieve both BREEAM Outstanding and WELL Platinum certification, which would make this the only office tower in London to receive both accreditations at this level.
In June 2019, EDGE announced its entrance into the UK commercial property market with the acquisition of 60 St Thomas Street on London's South Bank. EDGE claims that London is both a natural choice its next location to establish an office and a place to bring the strong EDGE ethos, design and technology platform to the UK.
Mark Eltringham of Insight recently spoke to Sandra Gritti of EDGE about the company's ethos and wider implications for offices worldwide. Sandra is also featured in the first issue of IN Magazine.
Outside in
The building will incorporate a new public park with landscaping right next to the building. The park connects to the accessible base of the building which includes amenities not only for the building's users, but for the wider community.
The façade of EDGE London Bridge sets out to celebrate the character of Bermondsey's Victorian engineering heritage. Environmentally, the proposed façades are designed to balance good internal daylight with shading and closed elements to avoid unwanted thermal gains or losses. This contributes to a reduction in regulated carbon emissions above 50 percent on-site.
The green landscaping surrounding the building continues into the building with generous displays of green inside, as well as planted balconies. Underfloor air supply in combination with natural ventilation is designed to provide optimal air quality, which, together with natural light from the floor-to-ceiling windows and radiant cooling, aims to provide a healthy environment for the building's users and are essential to receive the WELL Platinum certification.
The green podium will offer an entrance area to meet and connect, whilst the upper floors offer views of the city. Furthermore, the building will offer several facilities, which include a tenant's club with a large terrace, a gym, high quality bike parking and best-in-class associated facilities to encourage sustainable modes of transport, and a publicly accessible coffee bar on the ground floor.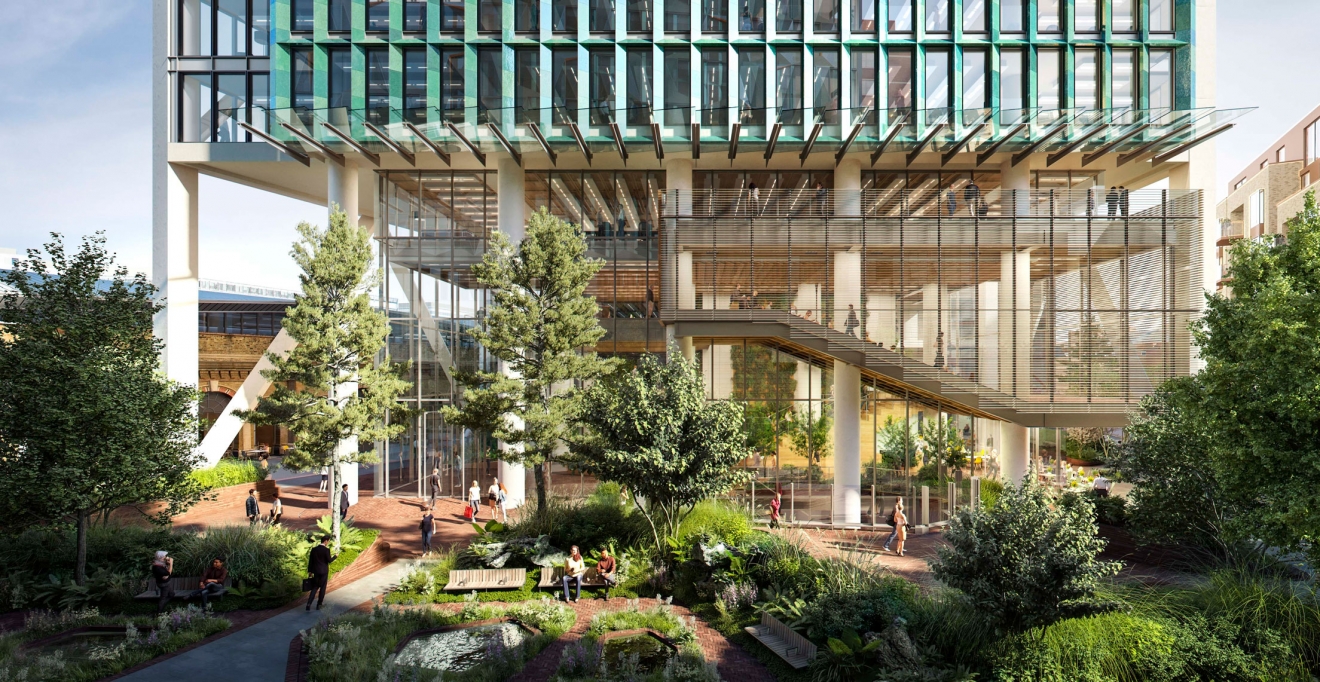 Inner strength
EDGE London Bridge will encourage the movement of workers with a wooden staircase that will dominate the triple-height entrance area. The staircase leads to an auditorium which can be used by both the building users and the local community. The base of the building has been designed to create a mix of uses, to stimulate interaction and to connect the building and its users with the wider community. Flexible zones on the office floors will be constructed in timber, which allow users to connect floors in the building with atria and interconnecting stairs to stimulate collaboration and to promote healthy lifestyles.
According to EDGE's COO Boudewijn Ruitenburg: "These trying times make importance of healthier and more sustainable buildings even more clear. We will continue to address this in working with all our stakeholders and partners. We aim to make EDGE London Bridge the most sustainable office tower in London, offering high quality office space with the highest wellbeing standards. We aim to make a significant and sustainable impact on further development in London, without losing sight of the history and heritage that is part of London's appeal."
EDGE is working with architects Pilbrow and Partners, developers Simten Developments, CBRE and Knight Frank to deliver the project.