April 22, 2020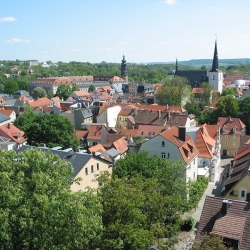 The Transdisciplinary Workplace Research (TWR) Network will gather September 16-20 2020 in Weimar, Germany to develop solutions for the thorniest strategic and tactical issues in office design, planning, and ways of working. TWR2020 is an important opportunity for both practitioners and researchers to move their professional work forward in meaningful ways.  The conference will take place with all attendees present in Weimar (pictured). If required the conference will be electronic, with appropriate adjustments in registration fees and reimbursements made.
Participants at TWR Network conferences have diverse sets of professional expertise. At these events, practitioners of all sorts, from architects, to interior designers, to industrial designers to landscape architects and urban planners connect with academics based in many different departments, including business, facilities management, architecture, interior design, other design specialties, neuroscience, psychology, sociology, and anthropology.
Regularly, attendees work simultaneously in both professional practice and the academy, and rich and nuanced discussions ensue during planned sessions, impromptu gatherings, and social events. Conversations focus on the latest workplace-related studies and projects.
The organizers of TWR2020 report that approximately 60 workplace-related presentations have been organized into two days of plenary and parallel sessions. Submissions were accepted for presentation only after rigorous review by the TWR conference scientific committee.  For each presentation, a short paper (about 3,000 words long) covering the material put forward will be included in the conference proceedings.
In addition to more time-honored types of sessions, the schedule will include 'unconference' sessions (focused on getting to know other researchers), multidisciplinary speed-working-events, joint brainstorms, another 15-20 research poster presentations, and regular networking breaks.
Sessions at TWR2020 were accepted only if their content is likely to improve practice and extend research; material may be applied or relate to fundamental scientific research, for instance.  Topics to be discussed include:
Wellbeing, productivity, and safety in the workplace
Work patterns and activities
Support for interaction/collaboration and/or concentration and workplace effectiveness more generally
Activity based/new ways of working
Health boosting/sustaining workplaces
Smart building technology and workplace sensors
Distributed workplaces and co-working spaces
Ergonomics
Strategic workplace management
Workplace key performance indicators
Managing workplace support processes
The future of knowledge work
TWR Network chair Rianne Appel-Meulenbroek (Associate Professor of Corporate Real Estate & Workplace at Eindhoven University of Technology, the Netherlands) reports that TWR 2018 in Finland was attended by people from 14 countries. Presentations submitted for TWR2020 are from even more countries.
Registration for TWR2020 is available at  https://express.converia.de/frontend/index.php?folder_id=3224.  Early bird registration is available until May 31, 2020. The early bird registration fee is 450 Euros, registration is 500 Euros beginning June 1. Doctoral students' early bird registration fee is 250 Euros.
All conference sessions in Weimar will take place in English and the conference proceedings will be written in English.
The co-chairs of TWR2020 in Weimar are Annette Kämpf-Dern (RE-ER Entrepreneurial Research, Germany)) and Mascha Will-Zocholl (Hessian University of Police and Administration Wiesbaden, Germany), and Bauhaus-Universität Weimar is the local university partner and physical location of the event.
Image: By © R.Möhler – Originally posted to Panoramio as Jakobskirchturm – Blick zu Herderkirche & Stadtschloss, CC BY-SA 3.0