September 12, 2022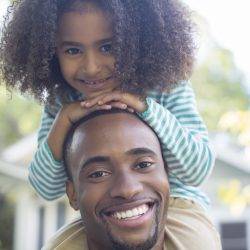 A recent Oxford University study revealed that levels of stress, anxiety and depression unsurprisingly rose in parents and carers during the pandemic lockdowns. Although social restrictions have now lifted, the recovery from the significant mental impact will continue to take parents some time. Now, more than ever, organisations have a key role in remedying stress and burnout and supporting working parents' wellbeing.
Employers who provide support to new parents and caregivers through family-friendly policies and approaches report significant benefits such as reduced staff turnover and absenteeism and increased retention, especially following parental leave. Good practice is rewarded with loyalty and productivity, which is important to recognise as family life continues to be a priority amongst many employees.
I've identified seven challenges affecting the physical and mental wellbeing of parents and how organisations can support them in the workplace.
Post-pandemic burnout
Typically, burned-out parents present with chronic stress, worrying about how they'll get everything done. This can then further disrupt sleep which exacerbates feelings of anxiety, irritability and overwhelm; creating a daily loop.
The pandemic has exacerbated the existing issues of fatigue, exhaustion and burnout among parents. Many are focused on childcare and home-schooling during the day, relegating their jobs to the evening and, as a result, becoming more irritable and stressed the next day.
Employers looking to support overwhelmed parents must be clear on workload, flexibility and expectations like working hours, capacity, and contact hours – both in the office and working remotely. Individuals who understand exactly what is expected of them are better able to show resilience during stressful times, as they can 'disconnect' and relax outside of their contactable hours.
Worries around job security
A study revealed 41 percent of working parents felt they had less job security and greater job jeopardy because of childcare responsibilities during the pandemic. When a member of your team takes maternity/paternity/caregiving leave, it's important that you schedule various 'keeping in touch' opportunities. Reassure them these appointments are informal and are in place to 'check in' with them whilst they are away from work.
You can use these meetings to update them on any business changes to the workplace, as well as career opportunities. This will help them feel connected and valued as members of your team and ease any worries they may have about their place in the business.
Financial concerns
One of the main challenges for new parents is covering childcare costs. Make sure you're clear on any financial help your company can offer, and potential changes you could make to their benefits.
Options like private medical insurance, emergency childcare and employee assistance programmes (EAPs) could also be offered through a core benefits package. Employers might consider extending some of these offerings – like private medical insurance – to employee family members too.
Even smaller perks can be helpful, like making parents aware of employee discount programmes to save money on things like the weekly shop, reducing financial anxiety.
Sleep deprivation
 Research shows sleep quality and duration rapidly worsen when parenthood starts. This is a big challenge for new parents and their employers, as poor-quality sleep affects individual wellbeing and work performance.
Employees should be encouraged to work around their natural sleep patterns where possible, for example, avoiding scheduling early-morning or late-evening calls. Providing education and resources around sleep is also beneficial.
Providing access to occupational health specialists could also play a key role in helping employees achieve quality sleep. Similarly, offering cognitive behavioural therapy (CBT) is an evidence-based approach that helps employees recognise and break unhelpful thought patterns which trigger the anxiety and stress keeping them up at night.
Perinatal mental health issues
Some new parents – including fathers and other caregivers – experience perinatal mental health issues like postnatal depression or anxiety and may need professional support to overcome them. If you suspect your employee has experienced a traumatic birth, remind them of any specialist trauma support services that may be available, like a specialist EAP.
Alternatively, be prepared to deliver a list of specialist charities they can call for support instead. Providing education in the workplace can increase awareness and encourage earlier signposting to support. Be clear about workplace support – like adjusting working hours or physical working arrangements – as well as what the individual should take responsibility for, like seeking professional mental health support if required, either privately or through work.
Their children's mental health
 79 percent of parents have concerns about their child's mental health and when children are experiencing difficulties, socially, emotionally, or academically, it can impact on parents' work performances.
Employers can help by offering more flexible scheduling and alerting employees to existing mental health support, for example, formal learning courses that cover key topics in understanding and managing children's mental health. These can be provided to staff along with the reassurance that they are permitted to work through the modules at their own pace during work hours.
Lack of equality
As recently as 2019, two in five fathers who applied for flexible working had their requests turned down by employers. Some argue this partially derives from an ingrained bias about gendered parenting roles and many dads aren't even aware they have a legal right to request flexible working.
Other research shows that the career opportunities for women returning to work after having a child are considerably stunted compared to those of their male counterparts. It's important to work with HR to identify if your policy characteristics are positively associated with gender equality, and if any have negative connotations like only offering extended leave for mothers.
Ensure important components of policies are offered equally like length of leave, payment levels, flexibility, financing, eligibility rules and coordination with childcare services. Every household is different, so the focus should be on helping families reconcile work and childcare responsibilities, ensuring factors which influence involvement in the labour support gender equality.