May 10, 2018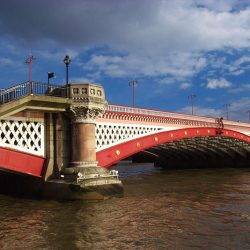 Hubble, an office and coworking marketplace, has published new data which it claims shows that tech startups and other growing SMEs in London are leaving the capital's best known tech hotspots, including Shoreditch and Soho, for south of the river.  Hubble's search data suggests that London Bridge (29 percent of all searches) is the most popular location in London for companies searching for flexible office space in 2018 (a sharp rise from 3.7 percent of searches in 2017), beating Shoreditch with 27 percent of all searches. More than 37 percent of searches were for office space in south London, counting London Bridge and the Southbank (8.5 percent). Startups and SMEs are branching out to different creative "hub-spots" within London, but most prominently is an unprecedented shift to south of the river. Searches for London Bridge specifically make up 29 percent of all searches and the Southbank, as a whole, making up 37.5 percent of all search queries.
The boost in popularity for London's Southbank is perhaps surprising given it only made up 7.3 percent of office space searches a year ago (a 413 percent year-on-year increase since April 2017).  Meanwhile Soho's market share dropped from 45.2 percent in 2017 to 23.5 percent in 2018 while Clerkenwell dropped from 26.7 percent to 2 percent.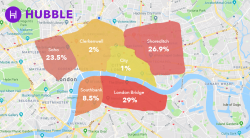 Hubble's data is backed up by a recent Knight Frank report which named the Southbank as London's newest commercial hotspot and claims: "South Bank has followed the trend in brownfield regeneration. Former industrial buildings have been put to new uses, from the Tate Modern art gallery in the Bankside Power Station, to the Harvey Nichols restaurant in the Oxo Tower, to Borough Market adding a delicatessen market at the weekends. High quality offices have been developed in recent years, and new transport infrastructure built, which has opened up the market to businesses seeking new headquarters buildings."
"This data is really exciting", says Tushar Agarwal, Hubble's co-founder and CEO. "Where startups and SMEs previously wanted to be in established creative clusters, this shows signs of a maturing scale-up market. UK businesses are increasingly comfortable  to move to newer, developing areas. Once dominated by the public sector, the Southbank has become a truly diverse London market attracting Tech and Media Companies and corporates alike, including News International, Omnicom and Ogilvy. The introduction of the Crossrail and cheaper prices are likely fuelling the boom".
Main image: Paul Barker Hemings