October 10, 2017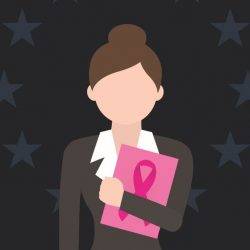 Although the rate of breast cancer diagnoses is rising in Europe and a higher proportion of women are surviving this particular  form of cancer,  returning to everyday aspects of life prove challenging with many survivors unable to return to work in full, due to a lack of support and consideration by employers. A new report by The Economist Intelligence Unit and commissioned by Pfizer investigates the challenges involved in returning to employment for a growing number of breast cancer patients and survivors of a working age.
There is substantial variation in national return-to-work rates across European Union countries.
Britain had Europe's, as well as the world's, fifth-highest crude breast cancer incidence rate in 2012, at 5 per 100,000 women.
As a result, the UK has a substantial five-year prevalence of breast cancer patients and survivors in the population (755.1 per 100,000), or just over 200,000 women.
In 2008, the total number of breast cancer patients and survivors in the country was about three times that of those diagnosed only within the last five years.
One study of individuals employed at the time of their cancer diagnosis—nearly half of whom had breast cancer—found that 82% returned to work.
18% of cancer survivors who returned to their jobs in the UK complained of workplace discrimination
This suggests room for improvement in policies and practices to support those who wish to return to work. Because the feeling of not being able to work and isolation can be devastating for most patients and survivors, re-entering employment is crucial to returning back to normality and getting their life back. However not all who wish to return to work succeed, the side effects of breast cancer and treatment make returning to work harder, but these are far from the only issues.  Important non-medical barriers also impede return to work, including:
Lack of employer or colleague support
The extent to which work is physically demanding
Socio-demographic including level of education, marital status, financial dependence
Such factors overlap to make particular populations vulnerable, especially working class women. To date, these challenges are often overlooked by stakeholders who could act in important ways to ease returning to work. Key stakeholders include:
Clinicians: Healthcare professionals are frequently unaware of the issues around employment and breast cancer, or uncomfortable talking about them. As working has become a realistic possibility for patients and survivors, doctors and nurses should begin to discuss these questions with their patients as part of a growing focus on the challenges and opportunities of survivorship.
Employers: Most employers have also not begun to address how to deal with employees who develop cancer. Rather than waiting for someone to become ill, and responding in an ad hoc way, they should think ahead in order to have appropriate policies and, where appropriate, programmes in place. These should emphasise communication with an eye to shaping responses tailored to individual situations.
Governments: Legislation and policy shaping the environment for return to work of chronic breast cancer patients and survivors either – in many European countries – is completely lacking or was designed with other needs in mind.  Policy makers therefore should also engage with the issue, retrofitting relevant disability and return to work legislation or putting effective policies in place.  NCCPs also should, as part of an increasing focus on survivorship, include employment issues.
"While data on the likely impact of specific interventions are sparse, this study finds that simply engaging with the return-to-work issue is an important first step to ensure that breast cancer survivors receive the support they need," said Aviva Freudmann, research director – EMEA Thought Leadership for the Economist Intelligence Unit, who directed the study.
"Due to meaningful advancements in the detection and treatment of breast cancer, an increasing number of women are living with or surviving the disease," said Andreas Penk, M.D., regional president, International Developed Markets, Pfizer Oncology. "With this progress comes new challenges for these women as they strive to return to their normal lives, which may include working. The results of this research suggest an urgent need for alignment from employers, governments and healthcare providers to support breast cancer survivors as they rejoin the workforce."