February 7, 2018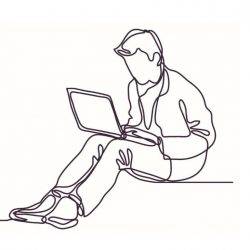 The government is to give so-called gig economy workers new rights including holiday and sick pay for the first time. Its new Good Work plan is a direct response to last year's Taylor Review which recommended changes in conditions to reflect modern working practices and extend the rights of workers in the new economy. The government has said it will proceed with almost all the review's recommendations including giving zero-hour and agency workers the right to request a more stable contract.
The government also claims that it plans to go further than the review's proposals by enforcing workers' holiday and sick pay entitlements for the first time, ensuring rights such as holiday and sick pay entitlements and a new right to a payslip from day one of employment.
About 1.2 million gig economy workers will now be entitled to a breakdown of who pays them and any costs deducted from their wages, while the Low Pay Commission will be asked to consider higher minimum wage rates for those on zero-hour contracts.
A consultation will also be launched to see whether laws are needed to make it easier to understand if someone is an employee, worker or self-employed, an issue that has led to a series of employment tribunal cases in recent years.
The government response will also shelve plans to increase national insurance contributions for the self-employed.
The news has been broadly welcomed although unions and employer's bodies have a more circumspect attitude.
Matthew Taylor, the author of the original review, said: "It will make a difference to the lives of the most vulnerable workers and that is what matters. I welcome the range of specific commitments to improve the protections and rights of workers and to enforce those rights more strongly.
"On important issues, including pay for variable hours workers, employment status and representation of workers I welcome the direction indicated today, but there is more work to be done to encourage the Government to be bold in living up to its commitment to good work for all."
Ben Willmott, Head of Public Policy at the CIPD said: "The Taylor Review shone a light on some of the biggest issues facing our modern labour market, and it is good to see that the Government has committed to taking action to address almost all of its recommendations. The UK has a flexible labour market that broadly strikes the right balance between providing flexibility for employers and employment protections for individuals but we should always look to tackle abuses of employment rights, provide greater clarity on employers' obligations and close loopholes wherever we can. The Government response also rightly places more attention on the enforcement of existing rights which can help ensure that bad practice will be stamped out wherever it exists.
"We particularly welcome the clear commitment to enshrining the principles of 'good work' and ensuring that they are measured on an ongoing basis. Work can and should be a force for good, and the measures announced today, alongside the ongoing consultation with business, will help to ensure that these principles are reflected across the economy. We look forward to working with Government to help develop these measures and ensure they capture the wide range of factors that make up 'good work'. A clearer understanding of the elements that create good work will support efforts to boost individual well-being and create more inclusive and productive workplaces.
"The CIPD has long called for both workers and employees to be eligible for written terms and conditions of employment, so we fully support the adoption of the right to receive a payslip and terms and conditions from day one. Improving clarity and transparency of people's contractual terms and conditions from day one can help to ensure that people's rights are respected in the workplace and reduce abuses."
Richard Laughton, Sharing Economy UK Chair, the trade body for the sharing economy industry, said firms welcomed the government's plan. "Many people hugely value the flexibility that platforms provide and have been able to participate in the employment market for the first time. Greater clarity on knowing when they are to be paid will help individuals make informed choices."
Sarah Jackson, Chief Executive of Working Families, said: "We welcome the commitment that the government has made to increasing quality work. Written statements of day one rights should include information about parental rights so that the UK's 11 million working mothers and fathers are never in the dark about what they are entitled to. It is only rogue employers who have anything to fear from the proposals to ensure those found to have flouted the law at a tribunal pay the price."
Stephen Martin, director general of the Institute of Directors, said: "This could be the biggest shake-up of employment law in generations. It is right, therefore, that government proceeds cautiously by consulting widely. However, while they have accepted almost every single recommendation from the Taylor Review, and in some cases even gone further, the lack of action on tax reform is a wasted opportunity."
However, unions have been more critical. TUC General Secretary Frances O'Grady said: "The government has taken a baby step – when it needed to take a giant leap. These plans won't stop the hire and fire culture of zero-hours contracts or sham self-employment. And they will still leave 1.8 million workers excluded from key protections.