April 24, 2015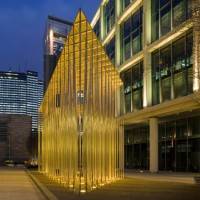 Facebook has nearly doubled the size of its UK headquarters on Euston Road in Central London, according to property owner British Land. The firm has signed a deal with the landlord that will see it add 66,000 sq ft to its existing 87,000 sq ft office. Facebook will occupy the fifth floor of the Regent's Place building, as well as floors nine to sixteen and some shared space on the ground floor. The company has recently relocated from a 36,000 sq ft office in Covent Garden. Facebook is one of several global tech giants migrating to the area around Euston and Kings Cross which is in the midst of a multibillion redevelopment. The most high profile new resident is Google which is building a giant new headquarters building in King's Cross. Other organisations in the area, which has been dubbed the Knowledge Quarter, include UCL, the Guardian and the government's Digital Catapult Centre.
James Danby, head of office leasing at British Land, said: "Facebook's decision to expand their presence at Regent's Place is a fantastic endorsement of the campus, and underlines their commitment to this location. While the area's connectivity and the quality of the office space are of course significant factors, our work to make Regent's Place a vibrant destination in its own right has been crucial in attracting high calibre media and technology businesses, of which Facebook is unquestionably one."
The building forms part of Regent's Place, a mixed use development which is now fully let to 45 office occupiers drawn from a range of industry sectors, as well as The Triton Building, a 26-storey tower with 94 residential apartments. Confirmation that Facebook has taken space is expected to encourage more TMT firms to locate near Euston and King's Cross, an area now challenging the Tech City development in East London as the capital's high tech hub.