December 5, 2017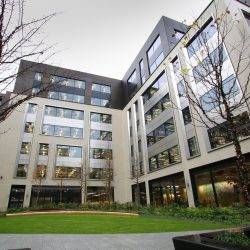 Facebook has unveiled its new offices in London's Rathbone Place, with the announcement that it will include a dedicated incubator space for start-ups. In terms of Facebook staff, the office will be home to a diverse range of teams including engineers, developers, marketing and sales teams. The 247,000 sq office, designed by award-winning architect Frank Gehry, includes 7 floors and features a new public square just off Oxford Street called Rathbone Square. In a first for a Facebook office, the new London site will offer incubator space for start-ups, called LDN_LAB, which will invite UK-based start-ups to take part per three month long programmes designed to help kick start and accelerate their businesses. The programme will help start-ups who are focused on creating, building or empowering communities through innovation and technology. Facebook experts from a range of disciplines including engineering, product and partnerships, will share their knowledge, expertise and mentorship as part of the programme.
Nicola Mendelsohn, Vice President, Facebook EMEA said: "We're delighted to be opening our new UK office today, announcing the creation of 800 new jobs and launching LDN_LAB, a dedicated development space for UK start-ups. Today's announcements show that Facebook is more committed than ever to the UK and in supporting the growth of the country's innovative start-ups.
The UK's flourishing entrepreneurial ecosystem and international reputation for engineering excellence makes it one of the best places in the world to build a tech company. And we've built our company here – this country has been a huge part of Facebook's story over the past decade, and I look forward to continuing our work to achieve our mission of bringing the world closer together".
Julian David, CEO, techUK said: "It is great to see a world-leading company like Facebook continuing to invest in London's renowned tech ecosystem, despite the uncertainties surrounding Brexit. Facebook has chosen to be amongst like-minded businesses and the brightest minds in placing its very first in-house start-up incubator, LDN_LAB, in the UK.
Large businesses are key to supporting innovation and we are excited to see what becomes of the start-ups that can grow and scale as a result of this endeavour. The message is clear: London is open, and tech is the flag bearer."