July 23, 2013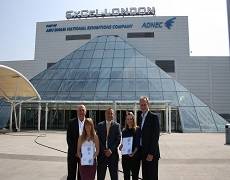 The Facilities Management Association (FMA) has signed an exclusive partnership agreement with the organisers of Facilities Show that will see the two organisations collaborate closely for the 2014 event when it moves to London's ExCeL. The terms of the partnership with organisers UBM Live, will see the FMA continue to play an integral role in the development of the show by once again hosting the FMA Pavilion, a central meeting and networking hub for its members including many of the major TFMs.
In 2013, the pavilion welcomed VINCI Facilities, HSS Hire, Norland Managed Services, Servest, NFS Hospitality, Guideline Lift Services, Vetasi, Andrews Sykes, Sheffield Hallam University, Westminster Kingsway College and Nationwide Platforms.
Chris Hoar, Chief Executive for the FMA, said: "We are delighted to confirm that we will once again be offering our exclusive support to Facilities Show for 2014 and we have no plans to support any other Facilities Management exhibitions next year.
"With 2014 set to be a truly exciting year with the move to ExCeL and we feel that a new location for this core annual event is a positive step in helping the industry to reach key decision-makers, business leaders and end-users not just in the UK but internationally. We wanted to highlight our commitment to the show with the signing of this exclusive partnership and look forward to another fantastic event in June 2014."
"We look forward to working closely with the FMA in the coming year and to build on our already fantastic partnership and the crucial support the show receives from this industry champion. The move to ExCeL really allows us to explore how we can build our offering and take the show to the next level and with exclusive backing from FMA we can really work together to provide a greater experience for our exhibitors, visitors and delegates, catering for both the UK and global FM agenda," added Fergus Bird, Group Event Manager at UBM Live
In 2014, Facilities Show will celebrate 15 years and will once again run alongside Safety & Health Expo, IFSEC International, Firex International and the recently announced Energy & Environment Expo as part of the Protection and Management Series which are all free to attend for registered visitors.
Click here for out more information about Facilities Show 2014.