December 17, 2014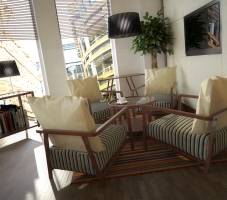 It's getting on for two years since Yahoo's much talked about decision in 2013 to ban its staff from homeworking but, in many ways, the fallout has continued ever since. Certainly a lot of commentary on the subject refers back to CEO Marissa Mayer's trend bucking decision. This can only be because it was a defining event in what is an enduring debate about where we work and what that means for a range of factors including our productivity, wellbeing, sense of belonging, access to information, the way we structure our time and our ability to communicate with and develop relationships with our fellow human beings. If those things were the same regardless of how and where we worked, there would be no discussion in the first place. But they do make a difference and there is a discussion.
Of course the press likes a sensational headline and so any debate has been characterised by hyperbolic statements about the death of the office at one extreme and the death of flexible working at the other. The reality is rather more reasonable and nuanced and it is certainly more sophisticated and unavoidably rooted in human desires and behaviour.
In the first place, the decision by Yahoo wasn't based primarily on some dated desire for a command and control management culture but rather data which showed how the office plays an essential role in providing the setting for collaboration and the exchange of ideas and information. There's no doubt that people get some things done better away from the office hubbub, but they also need to share a space with colleagues to meet some of their other practical and emotional needs.
That is why we have yet to see a company go the whole hog and simply do away with their offices completely, replacing them with a technologically interconnected web of remote working employees. It is why some of the world's most cutting edge tech firms such as Google, Apple and Facebook are investing so heavily in the latest generation of corporate headquarters buildings and campuses. It is why Governments and developers invest so much time, effort and money in creating like minded enclaves of businesses, especially for firms working in the kinds of creative and technology based sectors most able to offer flexible working.
That is not to say there is no uptake in flexible working. It is now a standard feature of working culture in the UK with nearly all companies offering some form of arrangement to employees. What has emerged is a balanced and better understanding of the range of physical, cultural and virtual settings organisations need to offer to attract, retain, motivate and empower people. It may no longer be the only one, but the office remains an important factor in providing all employees with the right environment in which to thrive, including (or even especially) those who enjoy some form of flexible working arrangement.
So with the vast majority of employees already sold on the idea along with a majority of organisations – albeit that they are not yet aware of the full benefits – what is left is for us to establish how the new equilibrium between the physical office and our other places of work including our homes, will function alongside each other. The important point is that staff are empowered to work in ways that are best for them, with an ability to book and use space within buildings easily depending on what they are doing and who they would like to meet and work alongside. Contrary to what you may have read, the current debate marks neither the end of the office nor of flexible working. Instead it marks the advent of a new and more sophisticated balance between the two.
__________________________________________
Charles Marks is the Managing Director of office refurbishment, design and fit-out company Fresh Workspace. www.freshworkspace.com