March 11, 2013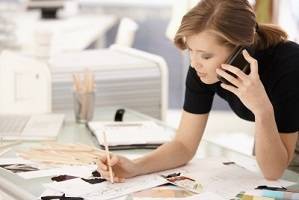 Just as ACAS concludes its consultation on flexible working, the practice has been declared démodé by none other than Alexandra Shulman, the editor of British Vogue. Writing in response to the recent news that Yahoo's Marissa Mayer ordered the company's 11,500 staff back to the office, the Vogue editor has argued that working from home is not an adequate alternative to showing your face in the workplace. Ms Mayer goes on to note that in a creative environment, important opportunities are missed when absent colleagues are tottering, undressed around their kitchens. The best stories, she says, arise from chance remarks, gossip and jokes between colleagues working alongside each other.
To some extent I agree with what she says. When people work from home they are less 'available' than when they are sitting in the same room or building as you. Despite knowing that you can contact a team member by phoning or emailing them, you just don't tend to do it. It takes more effort than catching their eye or hovering by their desk and after a while casual non-essential communication does wither away.
But the point that both Ms Shulman and Ms Mayer miss is that it doesn't have to be one or the other, home or office. It can be fluid and flexible and a combination of both.
In our business, team members often need to draft complex contracts or prepare Tribunal documents and sometimes their kitchen table is the best place to do it. They can have hours of peace and quiet, away from a busy open plan office, to really submerge themselves in the detail of their work.  At other times, they need to be here-discussing strategies or difficult cases with colleagues and benefitting from the wealth of experience surrounding them. This is what works for us and we would encourage other businesses to try to find out if it works for them too.
One size doesn't fit all of course and flexible working does not work across all sectors. Yahoo however has taken a different approach and decided it does with 11,500 employees now working in offices. There is no doubt that some of these roles would be the type of work highly suited to home-working. By decreeing that all employees need to be office based potentially ignores the money saving or productivity benefits that their current situation may bring to Yahoo. Similarly at Vogue, by always refusing requests to work from home as a matter of principle Ms Shulman may be alienating or demoralising staff by losing valued staff who need flexible working for family reasons. This could add on costs to the publisher. However Yahoo and Vogue must have done the maths and decided home-working doesn't work for them.
Ultimately, flexible working practices can be a great tool with positive benefits. Rarely though will one working pattern suit all so employers should take flexible working legislation in the spirit it was intended and consider whether it will work for everyone.
_______________________________________________
Founder of Loch Associates, Pam Loch is a dual qualified lawyer acting for employers and employees and advising on all aspects of employment law. She is Managing Partner of niche employment law practice, Loch Associates Employment Lawyers and Managing Director of HR Advise Me Limited.