December 14, 2022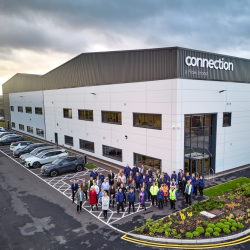 Connection, the latest brand to join European office furniture giant Flokk group have opened a bespoke designed and built manufacturing facility, housing warehouses and offices in Mirfield, Yorkshire. Attending the opening were Lars Røiri, CEO of Flokk and René Sitter, Senior Vice President, Central Europe, as well as key stakeholders to celebrate with the Connection team.
The new 45,000 sq ft facility is furnished with a state-of-the-art design and upholstery facility as well as an advanced manufacturing line, designed with the intent to contribute hugely towards the sustainability goals of Connection and the wider Flokk group.
"We've been working on the new facility for nearly three years now and we are thrilled to have finally opened. Coupled with the integration into the Flokk group this really is a new era for Connection. This purpose-built state of the art building will play a critical role in achieving the company's growth ambition to become Europe's leading manufacturer of high-quality workplace furniture." Kelvin Bromley, MD, Connection
Operations director, Andy Brook, said, "The new facility has allowed us the opportunity to furnish our production space with a new suite of equipment, allowing us to further boost capacity across manufacturing lines. We have upgraded to state-of-the-art bar-coding systems and introduced further efficiencies in the packaging stages of production with a big emphasis on the environment and reducing cardboard waste"
Flokk is delighted to continue its strong performance in the UK, with Connection opening the door to further opportunities thanks to its wide mix of solutions for commercial spaces, and reputation as innovative industry leaders in the UK.
About Connection
Part of the Flokk house of brands, Connection design & manufacture commercial furniture to create Space that Works. The business has significantly evolved since it first started manufacturing task chairs in 1997 and it now designs & manufactures high quality and intelligent products that add value in the modern workplace.
Today Connection work with clients & partners in over 50 countries worldwide. Connection specialise in understanding emerging work and learning styles and deploys this insight into its product design & purpose. Their insight is further enriched through collaboration with some of the UK's leading workplace consultants, designers and trend forecasters to create innovative product & space solutions.