December 14, 2022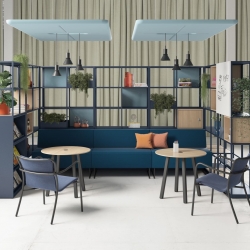 Bisley has introduced its Outline frame collection designed with flexibility and modern working in mind. Inspired by the need for versatile and open space environments, Outline works not only as a zone divider but also as a display and storage unit – ideal for establishing distinctive areas to work, collaborate and relax.
Crafted from hand-welded steel for a seamless finish, Outline by Bisley offers a robust yet elegant frame that allows natural light through – while creating zones without building walls. Highly customisable to the unique design of each workplace, Outline works perfectly with Bisley Be and LateralFile units, extending the product's life even further; from sitting alongside or on top of storage units to standing as an individual piece.
Outline comes in 34 colour finishes with an array of accessories – including shelves, planters, wooden storage cubes and whiteboards. In addition, over 50 fabric finishes from the Camira Blazer range are available for the optional fabric back panels.
Like all Bisley products, Outline is manufactured at the company's factory in Newport, South Wales. Its frames work to meet individual needs, encouraging productivity to flourish in a creative and adaptable workspace.
As a responsible British manufacturer, Bisley designs and produces high-quality steel storage solutions that are made for life. The business continues to invest extensively in its materials (including wood), machinery and processes to reduce its environmental impact.
Steel is indefinitely recyclable with no loss of inherent property, making it a highly versatile and durable material. At Bisley, steel is manufactured using the Basic Oxygen Furnace (BOF) method – with a recycled content of approximately 56%.
About Bisley
For over 80 years Bisley has been creating innovative products that meet the evolving needs of the working world. From the humble beginnings of car body repairs in 1931, the firm began meeting the needs of workplaces in the 1940s. It now creates over 15,000 items per week from its factory in Wales.  The products can be bought in over 50 countries, and organisations such as Direct Line, the BBC and PwC trust Bisley to meet their office storage and furniture needs.