December 14, 2022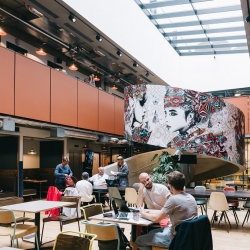 Around three quarters of flexible office operators globally are looking to expand – primarily in city centres – while 64 percent of landlords want to deliver flexible office solutions, according to The Instant Group's Future of Flex 2022 flexible office survey. The Instant Group's annual flexible workspace survey, which is based on providers representing more than 3,700 locations across the globe, also delves into changing occupier motivations within the industry, and how both operators and landlords are reacting to these demands.
Operator expansion and supply diversification from landlords demonstrate strong confidence in capturing the growing market opportunity on the supply side. New client demand is fuelling planned expansion, with more operators looking to grow into new markets. 39 per cent of operators globally are looking at city centre expansions, while 28 per cent are looking to expand into suburban areas.
Traditional landlords are increasingly considering implementing flexible workspace into their portfolios with 29 percent viewing it as an additional revenue driver. Half of landlords surveyed say they expect 16 to 25 per cent of their portfolios to be flexible by 2025.
Landlords are planning on implementing a flexible offering in various ways. Ten per cent of landlords are looking to partner up with an existing provider under a landlord brand to help deliver flex space, whilst 18 per cent are looking to lease space to a flex workspace provider and over a third (36 per cent) are looking to deliver flex workspace solutions themselves. Operators expect flexible workspace costs to increase over the next 12 months to combat energy costs, with 47 per cent anticipating a six to 15 per cent increase in rates in this time-period.
Craig Hughes, CEO of Partnerships at The Instant Group, said: "It's clear that the momentum behind the flexible office sector continues to gain pace. Given this demand and the opportunity to enhance overall returns, landlords are increasingly considering the role that flexible workspace can have in their portfolio. There are numerous ways that they're considering this, whether through joint-ventures and profit-sharing agreements with operators or delivering solutions themselves to capture a greater share of the benefit."
Globally, occupancy rates vary by region. As corporates increasingly move to flex, demand for larger flexible office spaces has risen, resulting in 44 per cent of operators globally achieving occupancy rates above 80 per cent. In the UK, this is even higher with over two thirds (67 percent) of flexible workspaces reporting occupancy rates of over 80 per cent.
In part due to hybrid working, almost all operators indicate they have seen changes in the way clients use space. The main changes include the increased use of meeting rooms and collaboration spaces; increased usage of private offices; and change in ratio of team size to workspace size.
As occupiers seek greater flexibility and agility, private offices, meeting rooms and collaboration spaces are seen as priorities for clients. The office of the future will feature multiple zones for occupiers to utilise the office in ways that adapt to their needs. Offices are also seeing changes in how technology is used, with 27 per cent of operators looking to introduce smart tech over the next year.