September 9, 2013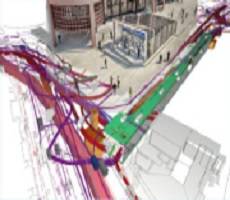 There is a lack of understanding within the FM community about what Building Information Modelling (BIM) is and its full capabilities, according to the full results of a BIM4FM Group poll. The majority of respondents (61.7%) held the view that BIM can support the delivery of facilities management, but just over a third of respondents (35.3%), do not yet understand the intricacies of how this will be achieved at this stage. While 65 per cent of the individual members of the organisation's that make up the BIM4FM group which represents institutes, trade associations and professional bodies within the built environment had heard of BIM – there did seem to be some confusion as to what actually constitutes a BIM project.
Geoff Prudence Chairman of the BIM4FM group said: ""It was encouraging to see that 65 per cent of respondents had heard of BIM, but overall we were surprised to see that 26.5 per cent state that they have already used it within a project. On discussing these findings with the individual organisations which make up the BIM4FM group, we have felt that this did not necessarily reflect the conversations we have had with our members. Therefore, we felt it important to consider and establish why this might be."
"After discussion, it was felt that this finding could either indicate some form of misunderstanding about what BIM is and its full capabilities. For example, BIM is certainly more than a 3-D computer modelling programme. Another possibility is that other non-FM areas within large organisations, for example those with a construction division, may already use BIM. However, it was felt in this instance that BIM is likely to be used by other disciplines within the built environment supply chain."
of those respondents who stated that they currently do not use BIM there was a high degree of indecision about how they would incorporate this into future working practices, with 23.5 per cent of respondents certain that their company was planning to use BIM in the near future. The vast majority (63.2%) were unsure if their company had plans to use BIM.  Although individually people appear to believe that BIM can support FM delivery, it shows there is some work to be done addressing 'how' this will be achieved.
Prudence explained: "The survey clearly highlighted that facilities managers, owners and occupiers identified that BIM provides them with the potential and opportunities for 'better information management'. It was felt that this information will support on-going performance improvements post occupancy and handover. The scope of opportunity highlighted specific benefits for the FM area around lifecycle management (74.5%), improve efficiencies (68.1%) and better reporting data (62.0%)."
The overview of the survey results is available to download here.